18.11.2011
Senior engineer of Rybinsk site of Operational Service of substations of IDGC of Centre — Yarenergo division Vladimir Nalivaiko has been given the honorary title "Honoured Power Engineer of the Russian Federation" for his achievements in the field of energy and many years of diligent work. The appropriate certificate and badge the power engineer was handed over by Governor of the Yaroslavl region Sergey Vakhrukov at the solemn ceremony.
Vladimir Nalivaiko started his career in Yarenergo in 1987. He held various positions, including executive ones — Head of substations Service of Rybinsk networks site and Head of operational Service of Rybinsk production depot.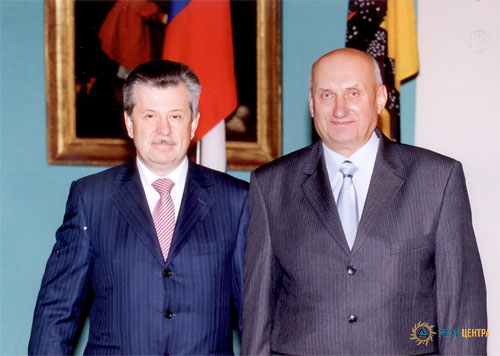 Colleagues describe Vladimir as a responsible and educated man with a deep understanding of the technical features of the profession. One of the main qualities of the honoured power engineer is his talent for coaching. Vladimir Nalivaiko "trained" many generations of young operators and employees at substations, who today provide reliable electricity supply to Yaroslavl consumers.
Vladimir Nalivaiko was awarded numerous industry and corporate awards. Among them is the Diploma of Ministry of Energy of the Russian Federation (2006), "Silver Badge of Honour of IDGC of Centre" (2008), the title "Hero of Labor of Yarenergo division".
Despite many years of experience in the electric grid and extensive professional experience, senior engineer of Rybinsk site of operational service of substations continues his education and improves his knowledge — does training courses and gets acquainted with technical novelties. "Reconstruction, reorganization and new equipment — all this should be dealt with. The power engineer must maintain his knowledge and always be ready to apply it practically. I'm glad I became a power engineer, it's a really interesting and in demand profession", — Vladimir Nalivaiko is conviced.