14.11.2011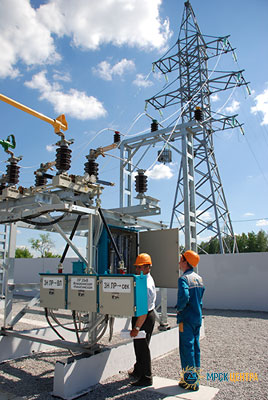 The amount of investments in repairs for nine months 2011 is more than 88.4 million rubles in IDGC of Centre — Tambovenergo division. Implementation of the repair program is aimed at ensuring stable operation of power equipment, especially during autumn and winter peak loads, reducing the risk of accidents in the energy sector in the region.
For nine months of this year Tambovenergo has performed a major overhaul of four 35-110 kV substations, over 920 km of overhead power lines (OPL), 184 transformer substations of 10/0,4 kV voltage. 350 hectares of ROWs have been cleared off along overhead lines of all voltage classes. The expansion of ROW along OPL-35kV "Tulinovskaya" has been completed in the amount of 20 hectares.
As part of the repair program this year the employees of IDGC of Centre — Tambovenergo division focuses on an integrated approach to repair power facilities. These activities are aimed at ensuring the sustainability of the electric grid operation, reduction of losses, reliability and safety of delivery of electricity, taking into account the interests of consumers, trouble-free operation in the autumn-winter period.
When the repair program is being executed much attention is paid to safety and health matters. At this point, all crews are 100% equipped with electric protection gear. All the staff is provided with winter uniform clothing, resistant to electric arcing and overalls resistant to general dirt.
Deputy Director for Technical Issues — Chief Engineer of IDGC of Centre — Tambovenergo division Alexander Zamotay noted: "Quality repair and modernization of power facilities is the key to reliable supply of electricity to consumers. All the works have been performed in full, ensuring proper operation of the grid at low temperatures. The division has coped with this task and prepared for the winter at the proper level. The whole team of Tambovenergo division has contributed to it.