07.11.2011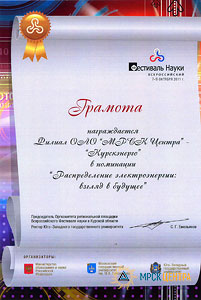 IDGC of Centre — Kurskenergo division was awarded the Diploma of the organizing committee of the All-Russian Festival of Science in the category "Electricity Distribution: A Look into the future". The award was presented to the power engineers at the scientific and practical conference on the issues of targeted training, held at the Southwestern State University (SWSU), which became the venue of the Festival of Science in Kursk.
The representative of the festival's organizing committee said that the fruits of the labor of scientists and innovative equipment are widely used at facilities of IDGC of Centre, which was demonstrated by the exhibits of the Kursk power engineers.
At the exhibition of industrial enterprises in the framework of the first All-Russian Festival of Science the Kursk power engineers of IDGC of Centre presented samples of modern innovative electric grid equipment: thermal imaging, ground-resistance testers, the data collection and transfer device, single-phase and three phase electric energy meters of high accuracy.
This equipment is widely used at facilities of IDGC of Centre and it allows quickly and easily to perform malfunction diagnostic of power facilities, respectively, to prevent faults and improve quality and reliability of power supply.