20.10.2011
The Committee Chairman — Head of Technical Inspection Department of IDGC of Centre Oleg Rochagov presented Deputy Director for Technical Issues — Chief Engineer of IDGC of Centre — Voronezhenergo division, Alexander Marchenko, the Certificate of readiness for the autumn-winter 2011/12.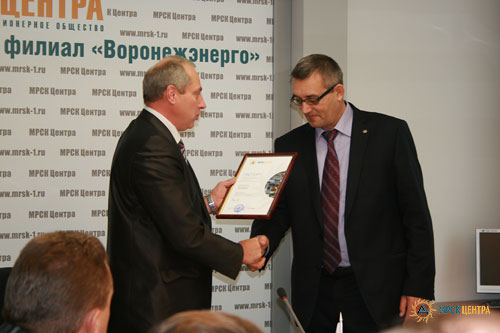 This event was preceded by careful preparation of the division to work during the period of low temperatures and regular monitoring of energy facilities by the committee consisting of experts of Technical Inspection Department of IDGC of Centre, Upper Don Office of Federal Service for Ecological, Technological and Atomic Supervision, SO UPS Voronezh Transmission Control Centre branch, General Directorate of EMERCOM in the Voronezh region, employees of IDGC of Centre — Voronezhenergo division.
Preliminarily the Certificates of readiness for the autumn-winter period (AWP) 2011/12 were presented to High-voltage Grid Office, Distribution Grid Office, Grid Control Center, Operational Assets Office that are responsible for reliable electricity supply in the region during winter loads. All units are ready for the winter season in full and with due care.
In preparation for AWP the measures have been implemented aimed at the execution of plans for integrated and overhaul repair, maintenance and light repair of equipment, clearing ROWs along overhead lines, preparation of vehicles, staff training and provision their safety features.
Power engineers have also paid great attention to the elimination of "bottlenecks", replenishment of emergency reserve of the division, as well as working out the interaction with Transmission Control Centre, the regional authorities of Ministry of Emergency Situations of Russia, city administrations and executive bodies of subjects of the Russian Federation in emergency situations. In addition the emergency response training was conducted that was devoted to the peculiarities of prevention of emergency situations at low temperatures.
"The emergency reserve of the division is staffed by 100%. Crews are equipped with electric protection and individual protection gear, tools, appliances and clothing. To date, all the planned activities have been completed and I can say with confidence that the division is ready to go through the autumn-winter period and ensure electricity supply for consumers during the heating season", — noted Alexander Marchenko.