07.10.2011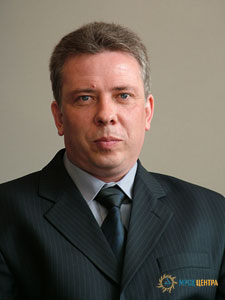 Governor of the Tambov region, Oleg Betin presented an honorary award "Distinguished Power Engineer of the Russian Federation" to the Head of Kirsanovsky site of substations service of high-voltage grid Office of IDGC of Centre — Tambovenergo division, Igor Glotov. This title has been given to the power engineer by Presidential Decree # 893 of 05.07.2011 for his great contribution to the development of fuel and energy complex and long-term conscientious work.
Igor V. Glotov has been working in the Tambov power system since 1987. During the work he has proved to be a highly professional, responsible and principled leader, a skillful organizer.
After becoming the Head of substations of high-voltage grid service of Kirsanovsky Electric Networks of JSC Tambovenergo in 2004 Igor Glotov has achieved increased production efficiency of the headed by him structural unit and efficient implementation of the entire range of industrial and engineering issues.
The power engineer is actively engaged in prospective development and reliability of electrical networks. With his direct active involvement in the implementation of the comprehensive program of reconstruction of power supply grid of the Tambov region in 2007 — 2010 he has performed work on the installation and adjustment of power equipment. Thus, in optimum terms, with the highest quality of the work was performed at substations "Kovylskaya", "Inzhavinskaya", "Kirsanovskaya", "Sokolovskaya", "Peresypkinskaya", "Annenskaya" and "Gavrilovskaya."
Igor Glotov organizes and coordinates the entire range of maintenance activities for equipment: gas-insulated 110 kV circuit breakers, 10 kV vacuum circuit breakers, 35 kV vacuum circuit breakers, battery cells, rectifier units.
In carrying out these activities in the districts of the Tambov region socially relevant issues are solved to enhance the reliability and quality of power supply, a significant reduction in electricity losses is achieved, issues on improvement of environmental safety are addressed to.
Igor Glotov constantly improves his skills. Over his years of work in the Tambov power system he has trained a generation of young professionals. Students of higher and secondary specialized educational institutions of the Tambov region constantly have their practical work under his direct leadership.
The power engineer enjoys deserved authority and respect in the team. For his high operation performance he has been repeatedly encouraged with the municipal and departmental awards: in 2003 he was awarded with the Diploma of the administration of the Tambov region, in 2006 he was awarded with the Diploma of OJSC "RAO UES of Russia".