28.02.2012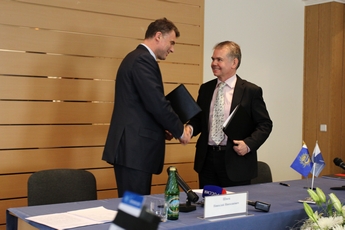 On 28 February 2012, MRSK Holding and Électricité Réseau Distribution France VOSTOK ('ERDF Vostok) signed an Agreement in the presence of Tomsk Distribution Company staff in Tomsk for the assignment the functions of the chief executive body of Tomsk Distribution Company (TDC, an operating entity of MRSK Holding based in the Tomsk Region) to ERDF Vostok registered on 17 January this year in the Russian Federation in the scope of MRSK Holding's Strategy until 2015 and further to 2020.
The document was signed by Nikolay Shvets, Director General of MRSK Holding, acting under the Resolution of TDC's Board of Directors dated 27 February 2012 and Eric Bojan, Director General of ERDF Vostok. Its signing crowned two years of intensive negotiations between the two major government-controlled electricity distribution grid companies of Russia and France. As Russian Prime Minister Vladimir Putin, noted, 'The French EDF is planning to launch a special purpose vehicle in Russia to implement innovations and advanced technologies in the... electricity market. This is a strong incentive for Russian companies to boost their efficiency. This is the first instance of such cooperation with Western partners. The French party has made a right decision by choosing Siberia for its operations.'
Having passed through all stages of international cooperation (the framework agreement of 2 March 2010 signed during the official visit of Russian President Dmitry Medvedev to France, the memorandum of understanding of 19 June 2010 signed in Saint Petersburg in the presence of the Russian and French Presidents, the agreement of intent and the terms of placement under management of 18 March 2011, the strategic cooperation agreement of 17 June 2011 signed in Saint Petersburg in the presence of Russian President Dmitry Medvedev and French Foreign Trade Minister Pierre Lelouche, and the approval of the transfer of operation of Tomsk Distribution Company to ERDF of 24 October 2011 at the meeting of the Government Commission for Monitoring Foreign Investment in the Russian Federation chaired by Russian Prime Minister Vladimir Putin), MRSK Holding and ERDF Vostok (a subsidiary of Électricité Réseau Distribution France operating distribution grids in the metropolitan France) have entered into an Agreement that aims to enhance performance of Tomsk Distribution Company and will operate until 31 December 2019.
On 1 March 2012, ERDF Vostok will assume its functions of the chief executive body.
A strategic international partner becoming the operator of an electricity distribution grid company of MRSK Holding actually implements the requirement of MRSK Holding's Strategy until 2015 and further to 2020 stating that in 2012 one or two interregional distribution companies are to be operated by independent qualified investors to enhance their operating and investment efficiency.
At the macro level, this measure will enable MRSK Holding to set up actual competitive environment within the electricity distribution grid system (by introducing competing management styles), which will allow evaluating involvement of independent owners, while improving the existing regulation system and setting up balanced incentives to increase return and ensure necessary quality and reliability levels.
Under the terms of the Agreement, ERDF representatives will be able to operate day-to-day activities of Tomsk Distribution Company at their own discretion, except for matters that lie within the competence of the General Meeting of Shareholders and the Board of Directors. The French management is expected to start integrating efficient methods and new engineering and process solutions in the operation of Tomsk Distribution Company to achieve certain advantages in the company's performance as compared to the existing operation system.
As Nikolay Shvets, Director General of MRSK Holding noted, 'ERDF has vast experience of operating in multiple international markets, and we are placing much hope in mutually beneficial exchange of knowledge, expertise and technologies that our partnership will bring.
'Both MRSK Holding and ERDF are investing on a large scale in the upgrading of their distribution grid facilities, developing smart grid technologies and implementing projects for installation of advanced multi-tariff electricity meters.
We expect that not only the Tomsk Region and the overall Russian distribution system, but also our French partners will benefit from the combination of expertise and knowledge accumulated in France and Russia in operating electricity distribution facilities.'
The goal of transferring the operation of Tomsk Distribution Company to the French partners is to enhance the company's performance, which will be assessed against a number of benchmarks. First, the assessment will focus on such improvements as higher quality of services and reliability of power supply, lower costs and higher net profits of the company, lower losses in distribution grids, and implementation and higher efficiency of the planned investment programme.
The cooperation between the parties will not be limited only to the above project, but will also focus on exploring opportunities for joint activities in other regions of the Russian Federation and internationally, and on arranging interaction in innovative development and joint research, e.g. based on the facilities of the Skolkovo innovation centre and Tomsk Polytechnic University.
At the today's meeting of the Scientific and Technical Council of Tomsk Distribution Company attended by ERDF Vostok representatives, Nikolay Shvets underlined that 'we have able to see that ERDF management is very constructive, ERDF is a reliable partner, its senior and middle level managers are highly professional, and that there is a package of advanced technologies and operation methods in the management portfolio of ERDF. We will undoubtedly learn much from our French partners, while having an opportunity to share our own achievements in a more focussed way. It is a two-way road.'
ERDF representatives Ani Kirsch and Patrick Losvis presented to the meeting of the Scientific and Technical Council of Tomsk Distribution Company their reports on the mechanisms for preparing an investment programme and electricity distribution tariffs, criteria for preparing a maintenance programme, and certification and admission of equipment to operation at electricity distribution grid facilities.
MRSK Holding is a major infrastructure company of Russia. Its annual throughput capacity is about 600 billion kWh of electricity, distributed via a more than 2 million kilometre long network. Its assets include more than 456 thousand substations with a total transforming capacity of 362 Giga-Volt-Ampere. In terms of its operating performance, the Holding is the world's largest electricity distribution grid company. MRSK Holding is a monopolistic provider of network connection and electricity distribution services for medium and low voltage grids in 69 constituent entities of the Russian Federation.
MRSK Holding was the first among Russian infrastructure companies to implement the advanced RAB (Regulatory Asset Base) method. This pricing system allows interregional distribution grid companies to raise long-term debt at an acceptable return rate and guarantees return on investment.
ERDF is a leading electricity distribution grid company of France. It is 100% owned by EDF (with the government controlling 85% in the latter). The company operates 95% of medium and low voltage distribution grids with a total length of 1,274,000 kilometres. ERDF services 33,600,000 customers.