18.06.2011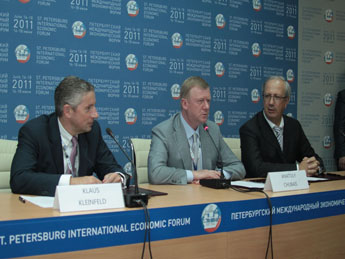 St. Petersburg, Russia, June 18, 2011 — Alcoa (NYSE:AA), OJSC RUSNANO and JSC Inter-regional distribution grid companies Holding (JSC IDGC Holding) signed today a Memorandum of Intent to establish a joint venture for the development and production of nanocoatings. The memorandum was signed at the St. Petersburg International Economic Forum by IDGC Holding Deputy Director General and Technical Director, Boris Mekhanoshin RUSNANO Chief Executive Officer Anatoly Chubais, and Alcoa Chairman and CEO Klaus Kleinfeld.
The joint venture will produce a broad range of applications including anti-icing nano-structured coatings for ground cables, wires and other components of power transmission lines. The project also includes production of next generation wires and cables with improved conductivity and anti-icing properties for JSC Holding IDGC companies. Alcoa and RUSNANO joint venture will look to install a pilot production line for the application of nano-coatings. JSC Holding IDGC, in turn, will support implementation of corresponding research and development, tests and certification of new high-tech products.
As noted by JSC Holding MRSK Director General Nickolay Shvets, concluded that last winter's "icy rain" were proof of the need for wires with anti-icing properties. The technology will reduce power outages and increase service life. "Producing next generation wires and cables in Russia to meet the demands of the country's power distribution grid will be an important step in improving system reliability of power supply to consumers," he said.
"It's well known that icing and rupture of power transmission lines due to inclement weather conditions is one of the most acute problems for Russian power engineers," said Chubais. "We expect our joint development of nano-coatings for existing power lines and future production of next generation cables will fix that problem."
Kleinfeld added: "Alcoa and its partners RUSNANO and JSC Holding IDGC offer unique technological and production capacity. Together, we hope to open new opportunities for the aluminum industry in Russia."