01.07.2011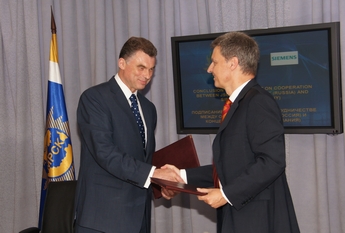 IDGC Holding and Siemens AG entered into the Cooperation Agreement in Moscow on July 1, 2011. The document was signed by Nikolay Shvets, Director General of IDGC Holding, and Udo Niehage, Chief Executive Officer of Power Transmission Division of Siemens AG.
The Agreement is aimed at introducing new technologies and equipment of Siemens AG into IDGC Holding's electricity distribution grid entities (including integrated solutions for substations of all types and voltage classes), developing the production of Siemens electrical equipment in Russia, and providing maintenance and repair for equipment installed at facilities of Interregional and Regional Distribution Grid Companies.
Siemens AG agreed to inform IDGC Holding companies on a regular basis about its recent innovations and advanced solutions in electrical engineering and about its plans to create new or build up existing production facilities in Russia. For its part, IDGC Holding will furnish Siemens AG with information on its long-term investment programs, annual comprehensive procurement programs, and other plans for developing and rehabilitating the electricity distribution grid infrastructure.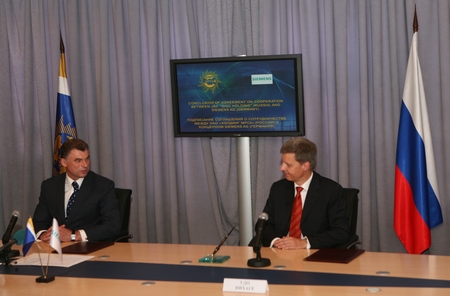 "IDGC Holding is consistent in building up cooperation with Russian and foreign leaders in electrical equipment production, focusing on not only long-term procurement but also joint development of new technological solutions." said Nikolay Shvets. "AT the same time, given IDGC Holding's large-scale goals of modernizing the electricity distribution grid sector, the Company strives to strengthen its international ties in order to introduce the world's best engineering and technological solutions into Russian electricity networks. Therefore, cooperation between a global leader in electrical equipment production and one of the world's largest electrical grid companies offers great potential both in the economic and in the scientific and technological context."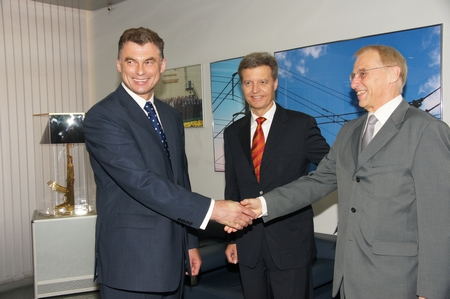 "We believe that Russia is a very promising market for implementing our innovative technologies in power distribution and for developing the local manufacture of electrical equipment." said Udo Niehage. "The Agreement with IDGC Holding in innovative company development will enable us to establish long-term partnership relations with Russia's largest electricity company. Transferring state-of-the-art technologies to Russia, including through production localization and R&D cooperation, we are ready to become the leading technological partner in renewing the Russian electricity distribution grid sector. As early as now, Siemens makes extensive investments in high-voltage equipment manufacture on the base of its Voronezh power cluster where three plants are being constructed to produce a wide range of products: supply transformers, SF6-insulated factory-assembled switchgear, high-voltage circuit breakers, and compact switchgear."