18 March 2015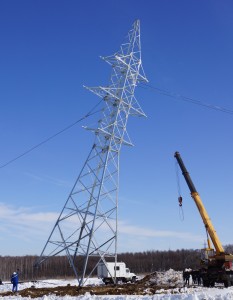 IDGC of Centre - Kurskenergo division continues implementing the project of reconstruction of the double circuit overhead power line (Conductor) 110 kV "HPP-1 – Garden" in Kursk. The power facility, constructed in 1956, is significant for the regional centre: it provides electricity to residents Seymsky and Central districts, as well as a number of large industrial enterprises and public health institutions, among them - CJSC "Schetmash", OJSC "Pribor", the Kursk Regional Hospital and Kursk Regional Perinatal Centre. According to Deputy Director for Capital Construction of Kurskenergo Igor Smakhtin, its reconstruction is carried out to improve the quality of the transmitted electric power, to increase the reliability of electricity supply to more than 300 thousand consumers of the city of Kursk, and to reduce losses in grids of the branch.
The project envisages installation of 18.6 km of wires with a large cross section on the line "HPP-1 – Garden", which will increase its transmission capacity. Steel zinc-plated ground wire with its cross section of 70 sq. mm is used to protect against lightning surges on the line. The project also provides for replacement of poles across the entire ROW and reconstruction of the 110 kV overhead lines at its intersections with the 35 kV overhead lines "HPP-1 – KZTZ №1,2" and "HPP-1 – Southwest №1,2". Now experts of Kurskenergo have completed more than half of the total work. More than 12 kilometres of cables with a larger cross section and 60 metal anchor-angular and steel multi-faceted intermediate power line poles have been installed, the application of which will significantly increase the reliability of operation of the line in all weather conditions. Additional protection was performed against electromagnetic interference on the line with cable lines of a branch of LLC "Gazprom Transgaz Moscow" and OJSC "Rostelecom". The reconstruction of the 110 kV line "HPP-1 – Garden" is planned to be completed before the end of this year.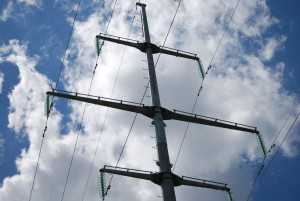 In 2015 Kurskenergo plans to continue the implementation of several more significant for the regional electric grid complex investment projects. In particular - the reconstruction of one of the oldest in the Kursk region power facilities - the 110/35/6 kV Substation "Ore". This will improve the reliability of power supply of the city of Zheleznogorsk, with a population of about 100,000 people and a number of large enterprises - a dairy, a bread-baking plant, and a concrete plant. Completion of the project is scheduled for 2016.
In addition, before the end of this year the creation of an automated system of commercial electricity metering (AMR) at the retail electricity market and the modernization of telecommunications in the framework of the transition to a two-tier system of operational and technological management will be completed. These projects will reduce electricity losses during transmission to consumers and increase the level of operational and technological control over power facilities in the region.