3 March 2015
In Kursk an annual meeting of the security unit of IDGC of Centre was held with the participation of Deputy Directors of the Company's branches for Security and heads of departments of mobilization preparation and civil defense of the branches. The meeting summed up the work of the security unit of the Company in 2014 and set objectives for the future.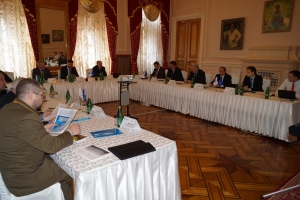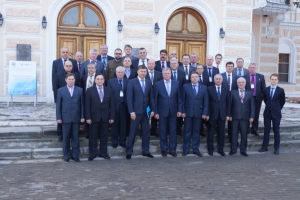 Head of the integrated security of personnel and facilities Office of the Security Department of IDGC of Centre Victor Galkovsky presented a detailed analysis of the results of the 2014 in the key areas of the security unit. He said that during the reporting period the security unit fulfilled its tasks. In particular, at the end of last year with the direct participation of the security units receivables amounting to more than 293 million rubles were recovered. Damage to the company in excess of 36 million rubles was prevented. More than 500 materials were sent to the law enforcement agencies, on the consideration of which 60 criminal cases were opened.
Representatives of the branches were actively involved in educational activities and in the course of "round tables" developed ways to work with violators of the payment discipline.
Questions on organization of protection of sensitive sites were considered in the Information Centre of the Kursk NPP, where, together with colleagues working there they discussed and exchanged experiences on effective cooperation with regional centres (departments) of the Russian Ministry of Internal Affairs, EMERCOM of Russia, mobilization departments of administrations and special services.
"Such events are useful from a practical point of view," stressed Head of the integrated security Office Victor Galkovsky. "They help better address issues related to the security of energy facilities, civil defense, and provision of financial and economic security of the Company, taking into account errors and applying the useful experience gained by colleagues. Adopted at the end of the meeting decisions will minimize potential threats to the Company's operations, improve the reliability of the electric grid complex of IDGC of Centre.