26 January 2015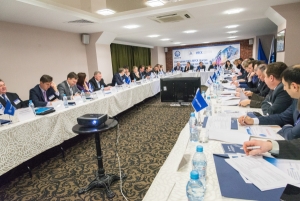 Questions of operation and development of IDGC of Centre in the current macroeconomic situation were discussed by power engineers and representatives of regional authorities at a meeting on January 23, 2015 in Voronezh.
Reports on the priorities in this area were given by heads of IDGC of Centre. It was followed by a brainstorm and developing optimal solutions to pressing issues.
First Deputy General Director - Chief Engineer Alexander Pilyugin, in particular, reported the results of the targeted program for improving reliability of electricity supply in 2010-2014. During this period, in 11 regions of the company's service area 2,416 oil circuit breakers of 6-110 kV and 201 current transformers were replaced. More than 82,800 hectares of ROWs of overhead power lines (Conductors)were also brought to the regulatory state by clearing of trees and shrubs - almost four times more than, for example, in the Republic of Belarus for the same time period.
"As a result, we were able to significantly reduce the number of technological failures in grids of IDGC of Centre: annually the failure rate is reduced by an average of 7.6%," stressed Alexander Pilyugin.
In addition, he drew attention of the participants to the need for closer interaction between the regional authorities and branches of the company in the development and implementation of investment programs.
Acting First Deputy General Director of IDGC of Centre Konstantin Mikhailik developed this topic in his report in more details. He urged the representatives of the regional authorities to involve branches of IDGC of Centre in preparation of investment projects, which are implemented on a project finance basis.
"In the new economic conditions during the formation of investment projects it is necessary to consider costs of creating the grid infrastructure, which usually reaches 30%," added Mr. Mikhailik.
The focus of the meeting was also the issue of attracting additional funding. In particular, a possibility of introducing fees to applicants for unused capacity discussed.
"Much of the investment program of the branch is to provide connection to electric grids of privileged categories of consumers. In this case, the customer contract demand is often not used," proved the necessity of the measure Deputy General Director of IDGC of Centre - Voronezhenergo division director Ivan Kleymenov.
Head of the Utilities Department of the Voronezh region Vadim Kstenin said that in the region a commission to improve the payment discipline was established, including monitoring of settlements with electricity companies.
"Debts for electricity is a threat to the reliability and security of power supply. Timely repayment of debt will allow to avoid the formation of cash shortages of the budget," he stressed.
The power engineers, representatives of the regions and the heads of regulatory structures of subjects of the Russian Federation agreed that the function of a supplier of last resort should be returned to the branches of IDGC of Centre. At the meeting it was decided to prepare a letter to the Russian Federation Government.