12 December 2014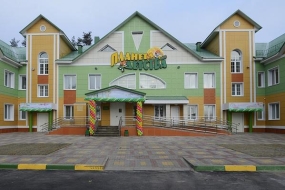 IDGC of Centre - Tambovenergo division completed connection to the grid of the largest in Tambov district preschool educational institution - kindergarten "Planet of Childhood" for 280 kids in the village of New Lyada. As part of these activities Tambovenergo's specialists constructed a 10/0.4 kV transformer substation and a 10 kV cable line, providing energy transit to the kindergarten which is fed with the 110/10 kV Substation "N. Lyadinskaya". The supplied power to the Kindergarten is about 300 kilowatts.
"All the activities under the grid connection contract for the kindergarten "Planet of Childhood" were performed by our experts quickly and efficiently. This was Tambovenergo's contribution to solving the problem of shortage of places in kindergartens of the Tambov region, as well as the implementation of the regional program for the development of a network of preschool institutions," stressed Head of grid connections of IDGC of Centre - Tambovenergo division Roman Stanin.
The kindergarten "Planet of Childhood" is the leader of Tambov district, not only in the number of kids, but also on the range of opportunities that are available here for their development. The new preschool takes not only normal children, but children with disabilities. In particular, there are created groups that have access for the disabled children with different diagnoses, as well as different age groups for health improvement for sickly children. The kindergarten is equipped with music and sports and fitness facilities, a medical office with a medical treatment room and a sick room and a methodical study, a sensory room, offices of a speech therapist and a speech pathologist.