26 November 2014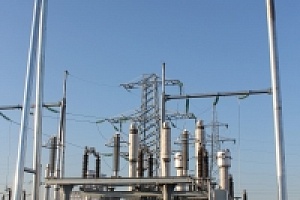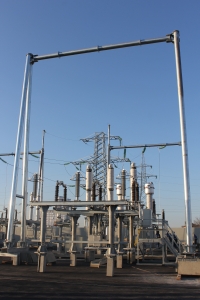 Power engineers of IDGC of Centre - Voronezhenergo division continue implementing projects aimed at improving the reliability and quality of power supply in Novousmansky district - one of the largest and fastest growing in the Voronezh region. Among the largest project among them is the reconstruction with changing to the 110 kV voltage of the substation "Usman-2" - the feeding centre of the villages of Babyakovo, Repnoye, Alexandrovka, Otradnoye and part of the village of Novaya Usman. Work at the power facility began in July of this year, the total cost of implementation of the investment project is estimated at 161.6 million rubles (excluding VAT).
As at the second half of November, the installation of the main equipment of 110 kV outdoor switchgear of the substation was completed, its modular building and 10 kV switchgear bays were installed, and entries from a 110 kV conductor were performed. During the re-equipment the power engineers use innovative technical solutions. Thus, the state of the equipment of the reconstructed power centre will be monitored with special temperature control modules, performing continuous remote temperature monitoring of inaccessible areas of the power facility. The implementation of this equipment will quickly and without the participation of personnel prevent failures.
In the near future Voronezhenergo's specialists plan to install relay protection and automation equipment in the substation and cabling of power utility circuits and auxiliary circuits of secondary switching. The renewed energy facility will be called "Rainbow" - it is worth noting that the name was also given to the residential neighbourhood in which it is located. The commissioning of the upgraded power centre will create an opportunity for grid connection of new customers, including a new creamery, high-rise apartment complexes and cottage settlements.
In addition, currently in Novousmansky district there is a 10 kV overhead power line with its length of 6.9 km from the 110/10 kV substation "Novousmanskaya" under construction and laying of a cable line with its length of 3.5 km from the substation 110/35/6 #21 "East" to pole #109 of 10 kV Conductor #7. These power lines will provide energy to large suburban villages of Otradnoye and Repnoye that are centres of low-rise buildings in Novousmansky district.
"The reconstruction of the substation" Rainbow "and the construction of two new power lines will shed load from the existing lines, reduce failures at the power facility of the district during the autumn and winter operation period, and ultimately improve the reliability and quality of electricity supply to consumers," Deputy General Director of IDGC of Centre - Voronezhenergo division director Ivan Kleymenov is sure about.