19 November 2014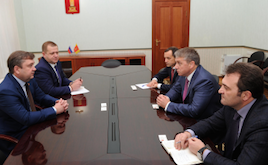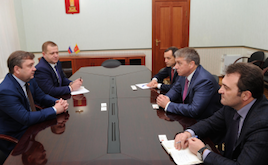 Today, November 19, Governor of the Tver region Andrey Shevelev met the new head of IDGC of Centre - Tverenergo division Mikhail Pilavov. The branch director was introduced to the regional head by General Director of IDGC of Centre Oleg Isaev.
During the meeting the parties discussed the main directions of development of the power system of the Upper Volga, interaction interface of power engineers and regional authorities in the implementation of investment projects important for the region. Such relevant topics were also covered as the availability of the electric grid complex of the Tver region to failure-free winter peak load operation, the organization of grid connection of physical and legal persons to electric networks, and the payment for electricity transmission services by consumers in the region.
The meeting's participants noted that the fruitful cooperation of the regional executive authorities and IDGC of Centre's management is the guarantee of energy security of the region, its rapid socio-economic development, and expressed their willingness to continue to interact constructively in ensuring quality and reliable electricity supply to customers of the Tver region.