16 October 2014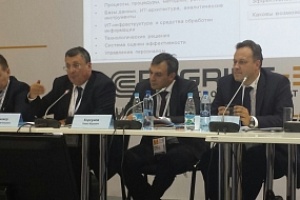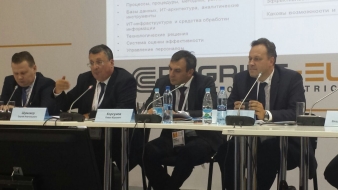 On the first day of the RUGRIDS-ELECTRO International Electric and Energy Forum Deputy General Director - Chief Engineer of IDGC of Centre Alexander Pilyugin took part in a roundtable on "Asset management systems: new approaches and challenges to manage operation".
Participants in the discussion of major developments in the asset management system were also representatives of large Russian power grid companies, including JSC "Russian Grids", JSC "FGC UES", IDGC of Urals, JSC "RusHydro", as well as professors and experts.
The parties exchanged views and information on the experience of implementing system projects and management of production assets in various companies. In particular, it was announced that in this area IDGC of Centre is the undisputed leader.
They also noted major obstacles in the implementation of projects to move from reaction methods to manage assets to technical condition based maintenance, improvement of the efficiency of operational and financial-economic activity by reducing the cost of ownership of assets. At the same time, according to Alexander Pilyugin, supervisors, FTS and Rostehnadzor should be involved for widespread implementation of the system that will help to optimize the costs of operating the grid complex and contain rates.
The panelists also exchanged views on the priorities for the development of asset management systems of energy companies today. According to Deputy Chief Engineer for Development and Innovation of IDGC of Centre Dmitry Rybnikov, small generation and distribution grid companies now need to start looking for ways to collaborate.
Alexander Pilyugin also entered the contest jury "From Idea to Implementation", held among young employees of companies of JSC "Russian Grids" and students of higher educational establishments. Based on presentations of the best works the winner was a project of mobile solutions in the diagnostics. Chief Engineer of IDGC of Centre noted that the company has long been working in this direction, and now these systems are partially implemented in the electric grid company.