13 October 2014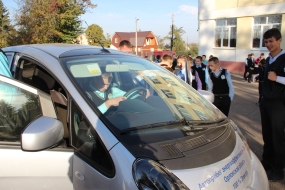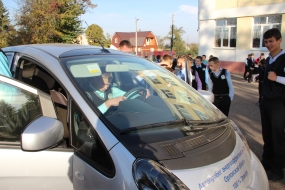 For 5 days of the rally power engineers of IDGC of Centre - Orelenergo division visited with lessons on energy efficiency 10 schools of districts in the Orel region, more than 1,000 schoolchildren were participants of the project.
Last week in the framework of the project the Orel power engineers of IDGC of Centre visited Sverdlovsky, Glazunovsky, Maloarkhangelsky, Kolpnyansky, Dolzhansky, Livensky, Novoderevenkovsky, Krasnozorensky, Verkhovsky and Pokrovsky districts of the Orel region. In each of these the power engineers conducted energy efficiency classes for 1,014 schoolchildren. In addition to the schoolchildren the lessons attracted interest from the press and local authorities.
"The motor rally of energy efficiency is a unique project using the most advanced technologies. Not surprisingly, it aroused great interest not only to teachers of district schools, local authorities, but also the press. It is not only socially important, but a fun event for the entire Orel region," stressed Deputy Director for Development and Sale of Services of IDGC of Centre - Orelenergo division Yury Volchenkov.
Since the beginning of the project the electric vehicle that not only has been a transport vehicle for the power engineers, but also a visual aid for the schoolchildren, has travelled more than 340 km. To overcome this way, the electric car took only 78 kWh of electricity in the amount of 264 rubles. For comparison, a car equipped with an internal combustion engine would have used more than 40 litres of petrol in the amount of 1,384 rubles. In terms of efficiency the electric vehicle surpassed its gasoline analogue by more than 5 times.
In the next two weeks the project will continue in the remaining 12 districts of the Orel region. The company's website shows the route of the economical car on the interactive map (hyperlink to the section), where you can keep track of places, which the "Motor rally of energy efficiency" team visits, the number of participants, technical specifications, as well as get acquainted with photos from the scene.