10 October 2014
IDGC of Centre has successfully completed the preparation of electric equipment for the winter operation and obtained its certificate of readiness of the Russian Ministry of Energy.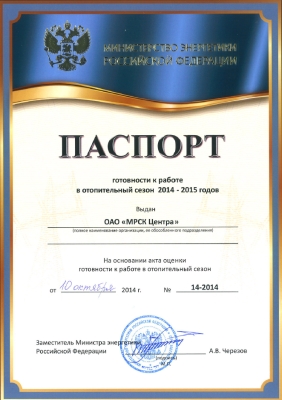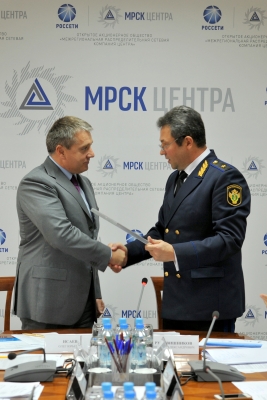 October 10th there was the final meeting of the commission of the Russian Ministry of Energy, composed of representatives of the RTN, the Russian Emergencies Ministry, the System Operator and JSC "Russian Grids", which examined the results of the check of availability of electric grid facilities of IDGC of Centre for the upcoming autumn and winter operation period.
Following the meeting, General Director of IDGC of Centre Oleg Isaev received the certificate of readiness from the hands of Deputy Chief of the State Energy Supervision Office of the RTN Evgeny Rukavishnikov.
Oleg Isaev reported that all planned activities to prepare for the winter operation had been fully implemented in the shortest possible time. "Getting the Certificate of readiness is an important outcome of many months of labour of power engineers of IDGC of Centre. However, the hardest work is still ahead. This coming winter the company will do everything to make the electric grid complex of the central region of Russia operate reliably, without technological violations," assured Oleg Isaev.
As part of the repair campaign in the service area of IDGC of Centre about 22 kilometres of power lines of different voltage classes (0.4-110 kV, including cable lines), 162 substations of 35-110 kV and 4,944 transformer substations of 6-10 kV were renovated. Emergency reserve equipment is stocked at 100%. Trucks and special vehicles were maintained to work at low temperatures. 90 mobile crews were formed. Availability of circuits of protection and automation was checked.
In addition, the revision is made of equipment used in the circuits of melting ice. In accordance with established schedules training exercise conducted to detect and eliminate ice slick, snow build-up on wires and ground wire of overhead power lines.
All branches of the company have entered into an agreement on cooperation in the prevention and mitigation of failures with local administrations and departments of EMERCOM of Russia, airlines, regional grid companies and contractors.
In order to improve emergency preparedness 175 emergency response trainings were conducted, including 11 joint exercises with EMERCOM, administrations and executive authorities of Russian subjects.
Today, in all regions of the service area of IDGC of Centre its electricity grid infrastructure is available for reliable power supply in a period of low temperatures, and professional and experienced staff of the company is ready to do whatever is necessary in case of emergency situations. According to the results of the comprehensive commission operation the Certificate of readiness of IDGC of Centre for the winter was issued without any special opinions and comments.