14 August 2014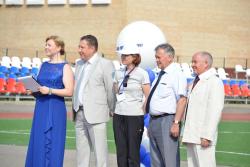 14 August 2014 in Tambov, in the sports palace "Antey" the opening ceremony of the V Summer Games of IDGC of Centre took place.
This year each branch of the company will be represented by a joint team, totally more than 400 employees of IDGC of Centre will participate in the Games.
The ceremony began with the general line-up of the participating teams of the Games.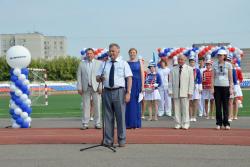 Deputy Head of the Tambov Region Administration Nikolay Perepechin addressed participants, guests and fans. He welcomed the athletes and noted that today the state policy of Russia, focused on a healthy lifestyle, is performed in a variety of forms, one of which is the conduct of corporate sporting events. "Competitions, achievements, a healthy lifestyle are the direct paths to higher labour productivity, discipline, organization and responsibility. We welcome the competition for professional and amateur sports!" he underlined. On behalf of Governor of the Tambov region Oleg Betin, Nikolay Perepechin wished the Games' participants fair competition, proper judging, high sports results and positive emotions of staying in the land of Tambov.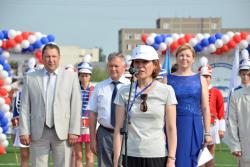 On behalf of IDGC of Centre's management welcoming words were said by Deputy General Director for HR Management and Organizational Design Inna Gromova. She congratulated all on the beginning of the competition, noting that the Games of IDGC of Centre are a truly massive and bright sporting event, which is aimed to educate employees in the organization, cohesion and high sense of responsibility for outcome of their work. "Sport develops in a person the best qualities: dedication, determination, ability to work in a team. These qualities help IDGC of Centre's employees achieve victory not only for sports, but also in the professional arena. And with the younger generation the sports competitions develop leadership skills and commitment to a healthy lifestyle."
The Summer Games of IDGC of Centre will be held from 14 to 15 August. For two days the participants will compete for the title of the strongest in seven sports: volleyball, mini-football, athletics, swimming, table tennis, weight-lifting, and chess.
For the purpose of making a healthy lifestyle, physical fitness of employees, as well as maintaining sporting traditions summer Games in IDGC of Centre are held annually. Organization of activities is traditionally carried out in cities where there are branches of the company. The Games are open to employees who have worked in the company for at least one year, passed the proper sports training and no medical contraindications.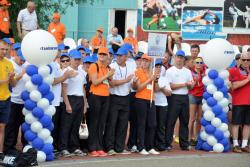 Entry to the corporate competition is limited only for participants, having the status of professionals: members of Russia's national teams, members of zonal competitions, official competitions and championships of the Russian Federation, tournaments and championships of Europe, World and Olympic Games.