23 July 2014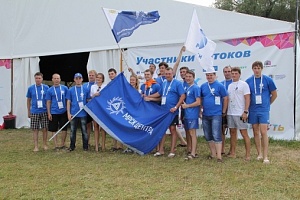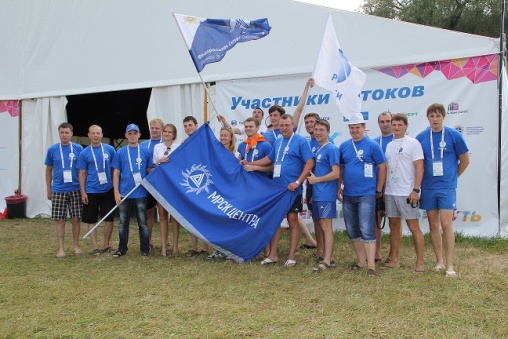 Young power engineers of IDGC of Centre for the second time took part in the International Forum of Young Power Engineers "Forsage-2014", which was held from 14 to 18 July 2014 in the Kaluga region.
In total, the forum was attended by more than 800 experts. IDGC of Centre's team was represented by 12 people.
Valeria Platonova, a leading specialist of the Public Relations Department of IDGC of Centre:
- At the "Forsage-2014" all the activities pursued one goal – each was to understand and appreciate the core values to work cohesively. Within the program of the forum each day was devoted to one of the values, namely: "Security", "Unified Team", "Responsibility for Results", "Efficiency", "Respect", "One Step Ahead". At a special "tree of values", erected in the camp, participants were able to exchange views.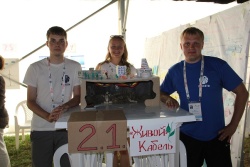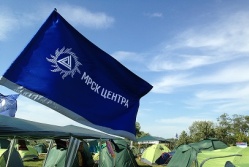 Eight educational streams were in place at the "Forsage-2014". Each stream had its own educational program, which included lectures, role plays, master classes by leading experts, mini-trainings and seminars. IDGC of Centre's team took part in the educational streams "Energopolis" and "Technopolis". The young power engineers discussed a number of critical issues: energy security, functioning of global energy systems, innovations.
The forum was visited by Head of "Rosatom" Sergey Kiriyenko. All participants of the streams gathered in an educational tent for a meeting with the interesting guest. Sergey Kiriyenko noted the proactive participation of IDGC of Centre's team in an interactive game, dedicated to energy efficiency, and presented the team with the ball of the World Cup, brought from Brazil.
The forum participants gained experience and with it the possibility of implementing developments of IDGC of Centre's team in practice. By the way, one of the outcomes of the forum was the decision of "Russian Grids" to allocate a separate educational stream - "Electric grid complex".
There is an opinion:
Alexey Magon, the head of electric modes service of IDGC of Centre – Smolenskenergo division:
- The "Forsage-2014" involves young professionals from eight Russian grid companies. All the companies have a different technical policy and its approach to the construction of electrical grids. Yet the forum provided a unique opportunity to interact with numerous colleagues, network with them to exchange information and learn about their work experience.