9 July 2014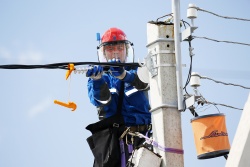 Today students of Belgorod construction crews visited professional skills competitions of crews of electricians of 0.4-10 kV distribution grids of IDGC of Centre. The future power engineers learned the training centre and watched the teams working at stages.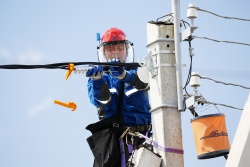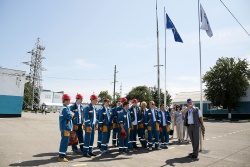 The training centre manager, Head of Production Control and Safety Office of IDGC of Centre - Belgorodenergo division Vladimir Rusanov introduced the students with the competitions progress. He spoke about the specifics of each stage, fixtures and fittings, which are used in the work by electricians, clarified the rating system and the requirements that the judging panel applies to contestants.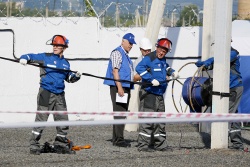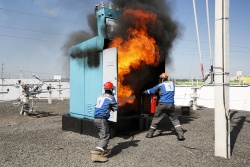 "The scope of the stages for the most part clearly meets the work that the staff of Distribution Grid Office regularly performs and therefore must learn in details both procedures, and underlying potential problems. Replacing a pole on a line or installation a wire, replacement of a defective bushing, measurement of the "phase-zero" loop resistance and selection of a circuit breaker — all included in the range of daily duties of an electrician," stressed Vladimir Rusanov.
He paid special attention to the steps and skills to pass which is certainly very important, but the power engineers hope that they will have to use them very rarely. This is helping a victim with electric shock with provision of intensive care for him and extinguishing a fire at a 10/0.4 kV package transformer substation. Compliance with regulations and safety measures and coherence in the actions, if necessary, can save a person's life.
"It is very interesting to observe the work in the real world," shared his impressions the 4th year student of BSTU named after V.G. Shukhov "Power Supply" Dmitry Martynenko. "We know much in theory, but in practice it is very different — the dynamics and scale once again confirm that I am not mistaken in choosing my profession."
Dmitry and other 14 students BSTU named after V.G. Shukhov and Belgorod Industrial College from July 1 to August 15 have their labor practices in subdivisions of Belgorodenergo. Already today they face various types of work, ranging from cable laying and finishing with filling in certificates of power grid equipment. The resulting experience can be very useful and will help the young people better understand the basics of the profession.