8 July 2014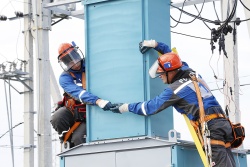 In the second day of the professional skills competitions of crews of repair and maintenance of 0.4-10 kV distribution grids of IDGC of Centre the teams were actively involved in the struggle for leadership. At stages the participating teams take part in accordance with the schedule. Almost all had to overcome two – three competitive stages, and some even out-of-competition. For example, while the Kursk power engineers change an intermediate pole, Voronezh ones extinguish a fire, and Lipetsk power engineers measure the "phase-zero" loop resistance, etc.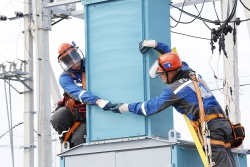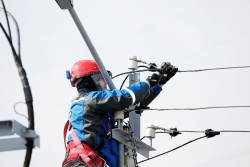 The judging panel chaired by Chairman – Deputy Chief Engineer for managing electric grid facilities of IDGC of Centre Evgeny Turapin monitors the progress of passing the stages. "As a result of the competitions, we will see the real level of our best teams, based on which we can set priorities and identify areas for further work with the staff," underlined Evgeny Turapin. "It is important that the teams are working together on one site. This not only facilitates the exchange of experience, but also helps to develop uniform methods and approaches, to learn to understand each other. These skills are essential in emergency situations where mobile crews are moved quickly from one region to another to restore power supply interruptions caused by extreme weather events."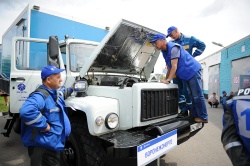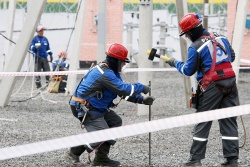 Also, today a competition for the best crew vehicle started. Judges check equipping with necessary tools and devices, safety features, working materials and the primary means of fire extinguishing. The participants believe that the crew vehicle is the result of teamwork. "When a man loves his job, then he does everything right and with zest. The driver is responsible for the technical condition and maintenance of the vehicle, for required equipment, and the crew adds and optimizes what they need for their work," underlines the head of the department of occupational health and environmental safety of IDGC of Centre - Belgorodenergo division Sergey Zlenko.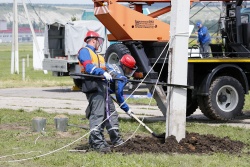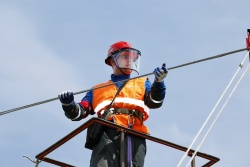 It can be special fasteners, lights, protective covers, and much more.
Results of the second day of the competitions and the outcome of the competition for the best crew vehicle will be known tomorrow.