20 June 2014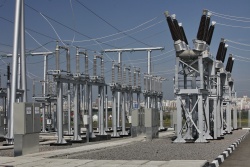 IDGC of Centre – Kurskenergo division is making preliminary results of work to reduce the failure rate in grids in the winter and spring of 2014. From January to May the emergency response time in the service area of the branch was reduced by 12% compared to the same period last year. No blackouts were recorded at any social facilities.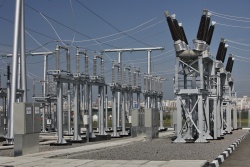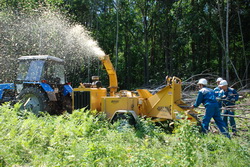 The power engineers managed to achieve these results thanks to system implementation of a package of measures aimed at prevention of emergency situations and the most rapid elimination of the consequences of potential failures.
Distribution Zones of Kurskenergo developed and implemented certificates of power lines and substations, which contain detailed information about the health of each facility, including action plans for emergency situations, and names of crews' people ready to be dispatched if necessary to eliminate the consequences of a failure. This information is available in the Grid Control Center (GCC) of Kurskenergo. To date, the branch's structure has formed 106 first responding mobile crews totalling more than 730 people, equipped with all necessary tools and means of protection.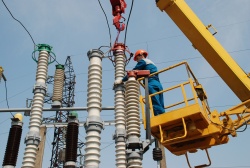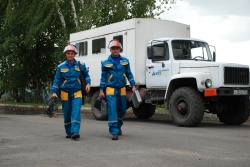 Kurskenergo performs systematic work on repair and modernization of electric grid facilities, implements new technologies and equipment. In total the branch's specialists from the beginning of this year have renovated 923.8 km of 0.4-110 kV overhead lines and 147 transformer substations; performed comprehensive overhaul of three 35 kV substations; and replaced about 20,000 insulators on more than 2,700 km of power lines.
Serious attention is traditionally paid to implementation of the program to clear and expand ROWs along power lines. This work is done in order to prevent possible technological disturbances caused by power lines damage by falling trees or branches. From February to mid-June specialists of the Kursk branch of IDGC of Centre have cleared 431.6 hectares of ROWs of power lines, which is one and a half times more than the same period in 2013. Targets for the ROW expansion have been exceeded. Kurskenergo permanently conducts training of personnel directly engaged in emergency and restoration operations. Since the beginning of this year about 188 electricians and engineering workers of the branch have had their short-term training.
"Implementation of measures envisaged by investment and maintenance programs, a program to improve reliability of electrical equipment, allows to prevent probable technological disturbances, reduce the number of failures and improve the overall efficiency of our work," underlines Deputy Director for Technical Issues – Chief Engineer of IDGC of Centre – Kurskenergo division Vyacheslav Istomin.