11 June 2014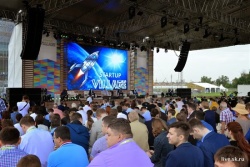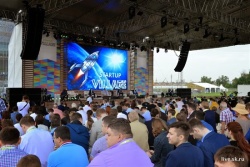 2-3 June 2014 at the innovation centre "Skolkovo" the International Conference Startup Village was held – the biggest event in Russia for technology entrepreneurs, innovative companies and investors. The event was attended by about 9,000 people from 10 countries: entrepreneurs from 40 regions of Russia, representatives of international companies and Russian development institutes. Among the visitors of the exhibition there were employees of IDGC of Centre too.
As part of a highly topical program the young professionals of IDGC of Centre were able to evaluate the best technology startups – activities of companies in the initial stage of their development, to learn tools of the public and private support for innovative businesses and young researchers.
The conference included presentations of more than 200 start-up companies selected in four areas: information technology, clean technology, biomedical technology and industrial technology. Young specialists of IDGC of Centre attended master classes and workshops of leading Russian speakers: Anton Abashkin, PwC Accelerator program manager in Russia, Taras Ablamsky, head of the IBM Innovation Centre; they listened to speeches from leaders of the world market and foreign high-tech start-up communities: Homayru Akbari, President, Chief Executive Officer of Acknowledge partners, Nehiba Abid, CEO of the management company Technopark "Sfax".
At the end of the two-day heavy event, the participants came to the conclusion that the first Startup Village established a tradition of holding an annual event, whose main purpose is to develop a new generation of Russian innovators and entrepreneurs.
Valery Platonov, a leading specialist of Public Relations Department: I think that holding such events in the format of the exchange of information and experience is necessary. Progressive-thinking young people should actively develop the skills to work with modern developments.