5 June 2014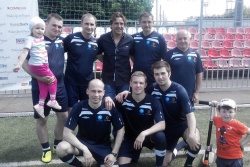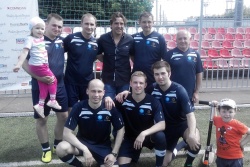 16 teams participated in the tournament. Such players like Mosoblgidroproekt, Intrek, "SSC RF Trinity", and Siemens competed for the award.
Hot fight started in the first matches; IDGC of Centre in a stiff fight gave way to "SSC RF Trinity" with a minimum score of 0:1. However, for the second pass to the Golden playoffs our players won the fight and took the second place in the group.
Next IDGC of Centre played 1:1 with the Siemens team, losing 2-penalty shoot-outs.
The first winner of the tournament was the team of "SC ETP" in the final match winning the Siemens team 3:0. IDGC of Centre's team took the fifth place.
Chief legal adviser Ivan Vostrikov and Leading specialist Alexander Bredikhin were recognized the best players in this competition.
The real surprise for IDGC of Centre's team was greeting of the legendary football player, a striker of the USSR national team Sergei Juran.