7 April 2014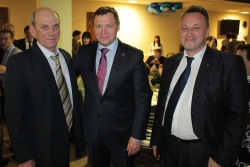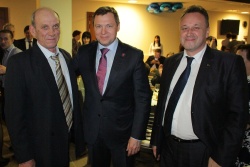 Staff of IDGC of Centre participated in the Company Day of JSC "Russian Grids", which took place in Sochi between 4 and 5 April 2014.
The event was a presentation of corporate awards of JSC "Russian Grids", which were also received by employees of IDGC of Centre. Certificates of Honour of JSC "Russian Grids" were given to Nikolay Mikhailovich Alyabyev - Head of Besedinsky Distribution Zone of IDGC of Centre - Kurskenergo division; Elena Ivanovna Velichko - Head of Tariff Department of IDGC of Centre; Alexander Ilyich Nikiforov - an electrician for distribution networks operation of degree 3 from Baychurovsky crew for operating distribution networks of Povorinsky Distribution Zone of category 3 of IDGC of Centre - Voronezhenergo division; Mikhail Mikhailovich Pavlov - Head of the substation service of high-voltage grid Office of IDGC of Centre - Bryanskenergo division.
In celebration of the Company Day IDGC of Centre was represented by the labour dynasty of the Puzikovs from IDGC of Centre - Tambovenergo division. The founder of the dynasty Alexey Stepanovich Puzikov came to work at "Tambovenergo" in 1971 in the position of an electrician servicing the 110 kV Substation "May Day". To date, three generations of the dynasty are closely connected with electric power, and the total length of work of the family is 133 years.