27 March 2014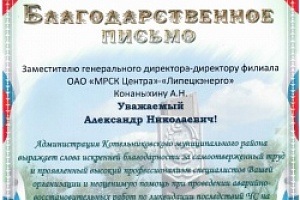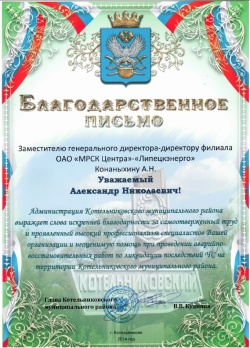 Branches of IDGC of Centre - Voronezhenergo and Lipetskenergo - received a letter from the head of the municipal Kotelnikovsky district in the Volgograd region Victor Kudinov. The municipality head expresses sincere gratitude to Lipetsk and Voronezh power engineers for their hard work, professionalism and invaluable assistance in performing first responding and restoration operations in the district in the aftermath of a disaster.
Please, be reminded that in the night of the 18th of March as a result of a squally wind, the speed of which reached more than 25 metres per second, heavy rain and snowstorms in the Volgograd region 76,700 people had electricity interruptions. Kotelnikovsky district was among the areas affected by the disaster.
Already the following day to help local power engineers IDGC of Centre's specialists arrived there: 4 mobile crews of "Voronezhenergo" and "Lipetskenergo" numbering 22 and 20 people. Quickly, for two days, they together with employees of Kotelnikovsky Distribution Zone performed emergency and repair work in 10-0.4 kV distribution networks, completely eliminating the effects of bad weather.
"The situation was complicated by the fact that the entrances to the power facilities were hard to reach: heavy rains had washed away the soil, which in this area was sandy-clay. Our crew vehicles on KAMAZ helped very much, with which we were able to quickly reach destinations," recalls the foreman for diagnostics of electric equipment of Lipetskenergo Andrey Ustinov.
"As it often happens, the power engineers had to work in difficult weather conditions – rain and squally wind almost did not stop. Nevertheless, our people coped with all tasks. They worked as a single, cohesive team," says the deputy head of distribution networks of Voronezhenergo Vladimir Tyrnov.
"The staff of mobile crews of IDGC of Centre many times participated in the elimination of emergency situations in other regions of the country. Our specialists helped restore interrupted power supply in Moscow, Volgograd, Kostroma regions, and the Krasnodar Territory. Today I would like to join my colleagues with words of thanks from other regions and to express our gratitude to our employees who demonstrated professionalism, perseverance and willingness to adequately work not only in the regions of the company's service area, but also in any part of Russia," stresses Deputy General Director – Chief Engineer of IDGC of Centre Alexander Pilyugin.