5 March 2014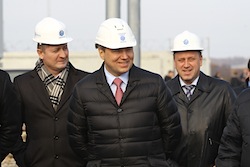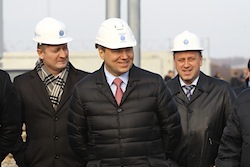 General Director of JSC "Russian Grids" Oleg Budargin on the 5th of March visited the Yaroslavl region where he evaluated the work of a branch of "IDGC of Centre" in improving the availability of power grid infrastructure for socio-economic development of regions of the Central Federal District.
Head of "Russian Grids" visited the 110/10-10 kV substation "Novoselki". This is a modern supply substation in the region, which was commissioned last summer, provides electricity supply to the Yaroslavl industrial park, which is the biggest investment site in the region. Consumers of "Novoselki", in particular, are or soon will be the Data Processing Centre of OJSC "Vimpelcom", State Educational Institution of Higher Education "Yaroslavl State Pedagogical University named after K.D. Ushinsky", as well as companies that are among the world leaders in the pharmaceutical industry - the company "Teva" and "Nycomed". The substation meets all modern requirements for quality and distribution of electrical energy and is one of the most high-technological energy facilities in the Yaroslavl region.
The commissioning of the substation "Novoselki" became part of systematic efforts to ensure the availability of the grid connection procedure for consumers, which the group of companies "Russian Grids", following the tasks facing the electric grid complex, performs in regions of its service area. Thus, only in the Yaroslavl region during 2013 IDGC of Centre - Yarenergo division signed 5,172 agreements to connect 138.959 MW. At the same time 4,049 connection agreements were executed for 184.958 MW. Revenue from the grid connection was 180.6 million rubles.
During his working trip Oleg Budargin also held a production meeting with representatives of the management of IDGC of Centre and "Yarenergo", during which outlined key areas of development of the power grid of the Central Federal District and, in particular, in the Yaroslavl region.
In addition, the head of "Russian Grids" awarded specialist of "Yarenergo", who made some significant contribution to ensuring the safe operation of Olympic power grid facilities in the Sochi power district. They were distinguished with Certificates of Gratitude of JSC "Russian Grids".