19 December 2013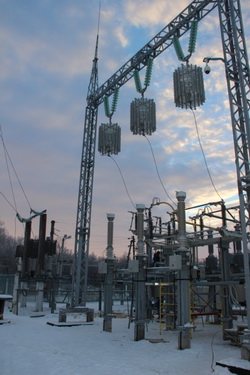 The project is part of IDGC of Centre's target program according to the scheme of development of Orelenergo's 110kV power grid to ensure power supply reliability in Uritsky district.
The 110/35/10 kV Substation «Naryshkinskaya» is transit and has been in operation for 36 years, since 1974, during which time its equipment has considerably become outdated. The main consumers of electricity powered with the Substation — district settlements and socially significant facilities — hospitals and schools.
In 2011, the design and estimate documentation was developed, and in the current 2013 construction and installation works were performed at 110 kV switchgear. The project provides for the replacement of isolating and short-circuiting switches in the circuits of transformers for two posting mounted gas-insulated circuit breakers with replacement of electromechanical relay protection for microprocessor based devices, installation of a tank 110 kV sectionalizing gas-insulated circuit breaker, installation of 6 current transformers of 110 kV, installation of 8 disconnectors of 110 kV with an electric drive, and installation of operating current control unit and substation control building in the premises of the Substation.
To ensure smooth operation the power engineers installed the most modern equipment. In particular, a block-modular structure for mounting open switchgear was installed. Through the use of advanced technologies timing and construction costs were significantly reduced, along with this the reliability of the new design, as well as its safety got increased considerably.
According to Deputy Chief Engineer of Orelenergo Sergey Zakharov: «The large-scale reconstruction of the substation will significantly increase the reliability of power supply to our customers, which will enable planned and dynamic development of the entire infrastructure of Uritsky district.»