5 December 2013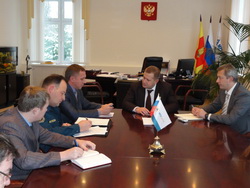 The meeting of the Headquarters chaired by Deputy Prime Minister of the Tver region Sergey Otroschenko discussed restoration of electricity supply in the Tver region, interrupted by a snow cyclone. The meeting was attended by Deputy General Director of IDGC of Centre — Tverenergo division director Andrey Polyakov, First Deputy Chief of the Russian Emergencies Ministry in the Tver region Anatoly Elizarov, representatives of the Ministry of Energy and Housing, the Ministry of Natural Resources and Environment, and the Ministry of Forestry of the Tver region.
Special attention of the discussion was paid to interaction of structures and assistance to the power engineers in the restoration work in the districts of the region, where the power supply is currently interrupted. A decision on the formation and mobilization of additional forces from the forestry to clear approaches to the damaged power facilities, power lines and direction of more off-highway vehicles to remote areas.
Currently, more than 102 first responding and repair crews of power engineers of the Tver branch of IDGC of Centre totalling 800 people are involved in the elimination of the consequences of bad weather. The crews have 203 necessary vehicles. To speed up the restoration operations redeployment of own forces of the branch is being conducted, crews from the branches of IDGC of Centre — in Orel and Lipetsk, power engineers of Valday PMES and related organizations, have been involved.
The meeting of the Headquarters will be continued in the General Directorate of the Ministry of Emergency Situations in the Tver region as a videoconference connecting territorial subsystems of the Emergency Situations System and reports on progress of the restoration work.