4 December 2013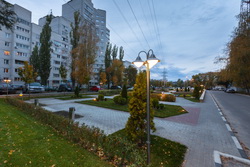 IDGC of Centre — Voronezhenergo in conjunction with the Office of Housing and Utilities of the Voronezh region and other energy companies working in the region continues to implement the project for the construction and reconstruction of street lighting in the local municipalities. The work has been performed for the second year in the framework of cooperation agreements signed between the parties to develop outdoor lighting in settlements. According to them, power engineers install lighting fixtures in locations designated by the municipal administrations, with priority given to the main streets and the streets on which the socially significant facilities are located.
In 2012, specialists of Voronezhenergo replaced obsolete lighting systems in 367 settlements of the Voronezh region —2193 lighting fixtures, 467 metering panels with timer control and metering devices of high accuracy class, and more than 180 km of lamp wire were installed there. This year, the power engineers have already installed in the territories of the region more than 900 fixtures and 28 metering panels and 27 kilometres of lamp wire. Currently, the work is underway in Vorobyevsky, Petropavlovsky, Rossoshansky and Repyevsky districts.
The power engineers and representatives of local authorities reported a high social significance of this cooperation.
«Together with the district administration of Repyevsky district we did a great job. In the settlements it gets lighter, life does not stop after dark,» underlines the chief of Repyevsky Distribution Zone Igor Khaschinin.
According to the head of Repyevsky district Mikhail Elchaninov, the management of the municipality intends to spend on the further reconstruction of street lighting a grant received for high efficiency in socio-economic development.
The cooperation will continue in the region too. Currently Voronezhenergo is considering installing about 30,500 lighting fixtures in municipalities of the region until the middle of 2014.