28 November 2013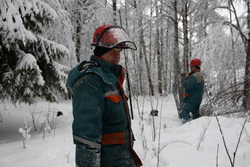 Today, 28 November, the regions of the North-western part of the Central Federal District (Kostroma, Tver and Yaroslavl regions) were hit by a new cyclone. Gusty winds and heavy snowfall led to disruptions in electricity supply to consumers in some districts of these regions.
Under control of the emergency response centre of the power grid complex of JSC «Russian Grids» and operational headquarters of IDGC of Centre, the power engineers of the company's branches, in the service area of which the regions are located, in a continuous operation mode are performing first responding and restoration work. Currently a total of 326 crews are involved, consisting of 1,207 people, who have 332 specialized vehicles.
The work will continue until the complete elimination of the effects of the natural phenomena.
Information about restoring electricity supply is available around the clock via the toll-free direct phone number of power engineers at 8-800-50-50-115.