28 November 2013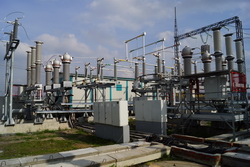 IDGC of Centre — Kurskenergo division has completed the reconstruction of one of the most significant for the Kursk region power facilities — the 110/10kV Substation «Beketovo». The work was performed under the investment program of Kurskenergo for 2013.
The upgraded substation will ensure uninterrupted power supply to located in the eastern part of the region poultry farms belonging to one of the largest consumers in the region, CJSC «Kursk Agroholding», as well as surrounding communities; grid connection of new social facilities.
The substation «Beketovo» was constructed in the late 60s of the last century in order to provide power supply of the population, agro-industrial enterprises, and infrastructure facilities of Gorshechensky district of the Kursk region. With the arrival of the region's largest consumer, CJSC «Kursk Agroholding», there was a need to modernize it to increase the maximum power for its demand and provide the required power supply reliability category. As part of the reconstruction project, the substation has its overhauled existing power transformers, a second power transformers of 6.3 MVA was installed, and modernized systems of relay protection and automation and electricity metering. The power facility has modern high-tech equipment installed. Parallel to this the overhead 110 kV power line «Gubkin-Gorshechnoye» was reconstructed from which it is fed. Loading new capacity of the substation «Beketovo» is performed in stages. Currently, the facility provides reliable electricity supply to poultry farms # 1,2,7 of CJSC «Kursk Agroholding» adjacent settlements, social facilities.
The substation «Beketovo» is the second facility reconstructed by specialists of Kurskenergo for the needs of the agricultural holding. Previously, similar activities were conducted at the 110 kV «Gorshechnoye». Both substations meet all the requirements of reliability and quality of electric power distribution.