22 November 2013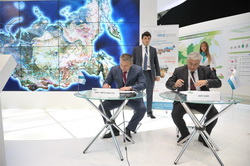 Today, at the International Forum ENES, IDGC of Centre and Moscow Power Engineering Institute signed an agreement on cooperation development. The document was signed by General Director of IDGC of Centre Oleg Isaev and Rector of NRU MPEI Dr. Tech. Sc. Nikolay Rogalev.
IDGC of Centre actively and fruitfully cooperates with one of the largest Russian research universities in the field of energy — Moscow Power Engineering Institute. The company has gained successful experience in staff development, training of young professionals.
This agreement opens up new prospects for cooperation between the two organizations and is aimed at developing relationships of IDGC of Centre and MPEI in matters of target training of young professionals and their practical work at facilities of IDGC of Centre.
During the signing of the agreement, Deputy Energy Minister of Russia Anton Inyutsyn noted the importance of timely and fundamental approach to solving the problems of formation of personnel reserve. «We welcome the today's initiative of IDGC of Centre to sign the agreement with Moscow Power Engineering Institute, which is a reference for the training of specialists in Russian for the electric power grid industry. Theoretical knowledge, backed up by practical experience will help shape the talent pool, will contribute to the rapid adaptation of young professionals,» underlined A. Inyutsyn.
«Competitiveness of business today is determined by its successful educational strategy and educational environment created by it. This is the basis on which the intellectual potential is formed that determines the dynamics of the development of any company. Therefore, investments in the company's educational cluster are a promising type of investment, and in this area Moscow Power Engineering Institute is the best partner for cooperation,» stated General Director of IDGC of Centre Oleg Isaev.