19 November 2013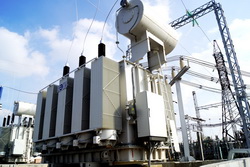 IDGC of Centre — Kurskenergo division has completed the reconstruction of the substation 110/35/10 kV «Gorshechnoye». Te energy facility was constructed in 1965 and is strategically important for the region because it provides reliable power supply of settlements, the production sector enterprises and social facilities of the eastern part of the Kursk region.
In recent years the load on the substation has increased significantly, and with the advent of a new major customer CJSC «Kursk Agricultural Holding» in the east of the region, there came a need of its major upgrade.
In accordance with the renovation project the power centre was equipped with the most modern equipment. There are two energy-efficient power transformer of 25,000 kVA each, providing consumers with the necessary power with minimal loss of idling. Along with this if one of the transformers is under repair it does not limit the capacity of electrical energy distributed to consumers.
The substation also has installed vacuum and gas-insulated circuit breakers, an automated information system for measurement of electrical energy and replaced current transformers in the entry and section bays, and lightning protection.
During the whole period of the work the power supply to customers of the eastern part of the Kursk region was provided smoothly through reserve lines.
Currently the substation «Gorshechnoye» meets modern requirements for reliability, quality and distribution of electric energy and operates in an automatic mode.
«The completion of the reconstruction of the substation will allow improving the reliability of power supply and following the term of grid connection of new customers as set out by the legislation. And it will also ensure the safe operation through the autumn -winter period,» stressed Deputy General Director of IDGC of Centre — Kurskenergo division director Alexander Pilyugin.