18 November 2013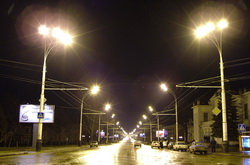 IDGC of Centre, following the principles of social responsibility, is taking an active part in the implementation of socio-economic development of the regions where it operates.
Thus, the branch of the company — Tambovenergo, provides the Tambov region with street lighting within the framework of the existing program in the region «People's Initiative». The program was adopted on the initiative of the governor of the Tambov region Oleg Betin and has been successfully implemented for more than a year. Its purpose is to support local authorities, improvement and development of human settlements. In this case, the decision about spending the program funds on particular needs is taken by popular vote at the citizens' gatherings.
Since 2012, the gatherings in several dozens of settlements of the Tambov region decided to install street lighting. Having received the support of the public, the leadership of the territories requested IDGC of Centre — Tambovenergo division for the provision of the relevant additional service.
«In the framework of the "People's Initiative" our branch provides fulfillment of the obligations under the contracts in the rural settlements of Inzhavinsky, Sampursky, Tambovsky, Petrovsky, Pichaevsky, Bondarsky and Pervomaysky districts,» says the head of the interaction with customers Office of Tambovenergo Alexander Demin. «In the course of this project implementation, we actively apply energy-saving technologies — modern sodium lamps with even light distribution.»
«Comfort, safety and well-being of people — especially in autumn and winter, when daylight length is small, depends on the quality of street lighting,» underlines the head of the Inzhavinsky village council Gennady Labutin. «At present, the street lights are installed on the streets of our 72 municipalities — and the effect, they say, is obvious. Now, in the morning children wait for the school bus with lit roads. And the ambulance arrives more quickly to patients on call.»
Totally in 2012-2013 Tambovenergo's specialists installed street lighting in 45 settlements, overall, more than 450 lighting fixtures were installed. In the coming years, this work will continue.
Governor of the Tambov region Oleg Betin highly appreciates the participation of the power engineers in the implementation of the «People's Initiative» program. «Of particular value is the fact that all participants feel involvement in the common cause. The "People's Initiative" became an example of the new, modern relationship between business and government, when the emphasis is on the support of public activity,» considers the head of the region.