20 September 2013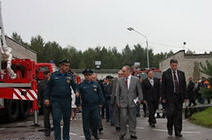 On the territory of the Smolensk region a joint training to eliminate the potential problem of power supply in connection with an emergency was conducted. The exercises were held with branches of IDGC of Centre — Smolenskenergo, Smolensk TCC of JSC «SO UES» and Bryansk MES of JSC «FGC UES», the Department of the Smolensk region on energy, energy efficiency and tariff policy, and the General Directorate of EMERCOM of Russia in the Smolensk region. The training was supervised by managers of JSC «Russian Grids» and the Ministry of Energy of the Russian Federation.
According to the situation to occur during the exercise at 2:20 p. m. at the Smolensk nuclear power plant units #1 and 3 had a shutdown. In that case, six overhead power lines of 750 kV, 500 kV and 300 kV were de-energized.
Due to the possibility of mass disturbances that limits energy consumption for a lot of consumers in the Central and North-Western federal districts, including the territory of the Smolensk region, Smolenskenergo introduced the high alert operation mode for emergency restoration and disaster management.
The information about the risk probability of occurrence of violations to reliable operation of power facilities was quickly updated with the EMERCOM of Russia and RosGidroMet. Experts performed continuous monitoring of actual weather data that were emerging in the areas of electricity supply facilities, located in areas of predictable risks.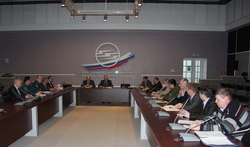 Staff of substations, crews and production personnel of Smolenskenergo, ensuring readiness for emergency repair work on the electricity supply facilities, located in areas of predictable risks, were alerted. Crews were checked for equipment with tools, clothing, protection equipment, gear readiness, special vehicles, mechanisms and machinery for work performance, availability and serviceability of communication facilities.
The power engineers organized frequent control over the operation of substation equipment, located in areas of predictable risks. Extraordinary inspections of power line section were conducted, power grid equipment under repair was switched back on to keep the reliability of the normal power supply circuit, and the work of backup power supply was checked.
In Smolenskenergo around-the-clock duty of managers was organized, ensuring undertaking restoration operations at facilities located in areas of predictable risks.
Summing up, the supervisors of the training noted concerted actions of operating personnel of the electric power companies, EMERCOM and authorities. The conventional emergency in the regional power system was promptly eliminated. The participants of the exercises demonstrated a high professional level and confirmed their readiness to work in an emergency.