16 August 2013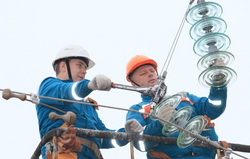 IDGC of Centre is actively implementing its program of activities to prepare for the winter peak loads. At the moment it is being executed in strict accordance with the plan. Compared to last year the preparation in 2013 is characterized by a high rate and tight deadlines. The preparatory process is divided into two phases: at the first phase most of the preparation activities are being implemented, at the second one, after some preliminary checks, any drawbacks will be removed. The practice of a two-stage preparation, which was introduced last year, allows not only in advance to the date of receipt of the Certificate of readiness — 15 October — to identify adverse trends and risks in a timely manner to prevent them, to develop preventive measures, but also to perform additional work over the plan.
«Preparing for the autumn-winter period is the most crucial period for the power industry. Therefore, to ensure reliable and quality power supply to consumers today, all efforts, means and resources of the company are directed to prepare for the autumn-winter operation period,» underlines Deputy General Director — Chief Engineer of IDGC of Centre Sergey Shumakher. «Projected energy consumption in 11 regions of the company's service area in the autumn-winter 2013/14 is expected to reach 32.65 billion kW/h, which is higher than last year. In some areas, we expect a new historical maximum of power consumption.»
One of the priorities of the preparation for winter is still the performance of the repair program. In the first half of 2013 about 8,500 kilometres of power lines of 0.4-110 kV and 2,500 transformer points, 38 substations of 35-110 kV were repaired.
Particular attention is given to clearing ROWs along power lines. In the first half of 2013 more than 7,000 hectares were cleared, and 1,4 million hectares of ROWs were expanded. In total this year, according to the plan more than 15,000 hectares will be cleared and about 4 thousand hectares of ROWs along conductors will be extended. (This is the largest planned volume among other IDGCs). It is worth noting that from 2009 to 2013 IDGC of Centre has performed clearing and widening of ROWs in excess of 80,000 hectares. Due to this large-scale work the failure rate in the autumn-winter operation period at power facilities of IDGC of Centre in recent years has decreased by half.
To date, most of the preparations for the autumn-winter period have been made: emergency reserve has been staffed at 99%, and 886 standby power sources have been tested. IDGC of Centre formed and has 90 crews of increased mobility numbering 520 people being ready around the clock. In case of emergency situations and liquidation of their consequences, the company will be able to attract 1329 first responding and repair crews numbering 7,916 people and 147 crews of contractors of 904 people. In preparation for the winter with the participation of the staff of the company exercises to eliminate process failures were conducted, trainings to detect and remove sleet, snow build-up on the wire and ground wire. Prior to October 1, together with the Ministry of Emergency Situations of the Russian Federation, regional administrations and FGC 11 training exercises will be held.
In 2013, in preparation for the autumn-winter operation period, IDGC of Centre's branches have renewed their vehicle fleet, including the purchase of crew cars, boom trucks, snowmobiles, etc. — in total 131 pieces. The use of modern off-highway vehicles will ensure immediate action of emergency crews during restoration activities.