8 August 2013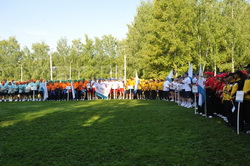 Today, August 8, in Moscow the solemn opening of the IV Summer Games of IDGC of Centre took place. 12 teams took part in the large-scale event that presented all the branches of the company and the executive office, a total of about 500 people.
Deputy General Director for Human Resources and Organizational Design of IDGC of Centre Inna Gromova addressed with a welcoming speech to the participants of the competition on behalf of the company. «We love our branches, we love our profession and we love the sport! I'm sure the current Sports Games will be a real holiday! These activities strengthen the corporate spirit and provide our employees with an excellent opportunity to socialize and share experiences.»
Accompanied with the anthem of IDGC of Centre the flag of the Sports Games was raised by the team captain of Voronezhenergo — the winner of last year's summer event Evgeny Novikov. The right to raise the flag of the company was presented to Alexander Kotov, a member of IDGC of Centre's team, who took part in the Winter Sports Games of power engineers 2013 in Sochi, where the company became the best team and won first place in the team standings.
«We have repeatedly demonstrated that IDGC of Centre is a company that has the best sports tradition, which supports corporate sporting fraternity. The victory of our team in Sochi obliges us in the future to show excellent sport performance,» underlined the chairman of the trade union organization of IDGC of Centre Victor Ablezgov.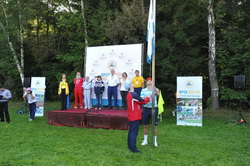 For the first time in the history of the Sports Games of IDGC of Centre the participants uttered the sports oath: «We promise to respect each other, observing the rules by which the Games are held, in true sporting spirit, for the glory of sport and the honour of our teams!»
This year, members of the jury included the strongest judges, almost all of them have national category and are masters of sports of international class. Head Judge is Vladimir Batrakov.
The program of the Games in 2013 includes competitions in eight sports: table tennis, chess, football, volleyball, swimming, weight lifting, mini-soccer and athletics. Several sets of prizes will be at stake, in addition to this those athletes will be noted, who most ardently demonstrate their skills in team sports, and they will be awarded the title of «Best Soccer Player» and «Best Volleyball Player».