1 August 2013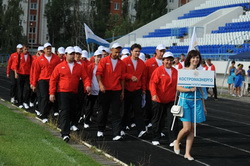 From 7 to 9 August in Moscow on the picturesque banks of the Klyazma River the IV Summer Sports Games of Power Engineers of IDGC of Centre will be held. The competition will be attended by 12 teams of the Executive Office and branches of the power company — more than 500 people.
The program of events in 2013 will include 8 sports: table tennis, chess, football, volleyball, swimming, weight lifting, mini-soccer and athletics. In addition, golf and tug-of-war will be held with no contest.
During the Sports Games a few sets of awards will be as prizes. Athletes of the power industry will find out who of them will be the most powerful and well-prepared in the individual championship in individual sports, team championship in games and group sports. Athletes, who play well in team sports, will be awarded as well, they will be given the title of «Best Soccer Player» and «Best Volleyball Player». Professional judges will summarize the results and the overall team championship performance.
Sports activities for power engineers have become an integral part of the corporate culture. The company-wide competitions were held for the first time in 2006, and the first Summer Sports Games of IDGC of Centre were successfully held in 2010 in Orel, and since then they have become an annual event. The event program is constantly updated with new sports, the number of participants grows up. For example, last year the summer competitions were attended by 300 people, whereas in 2013 this number increased to 500. This year, for the first time there will be a performance of a group of cheerleaders of IDGC of Centre, who with a great success presented their program at the All-Russian Winter Sports Games of workers of the grid complex, which was held in April 2013 in Sochi.