29 July 2013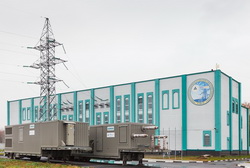 For grid connection of an automobile plant of Group of Companies IRITO «Motorinvest», which is under construction in the Lipetsk region, IDGC of Centre has commissioned an independent 110 kV 25 MVA mobile substation.
The construction of the automobile plant began in Krasninsky district of the Lipetsk region in 2012. At the plant it is planned to assemble SUVs Great Wall Hower H3, and in the future — vans and passenger cars. Painting and welding lines have been already put into production.
As for the design the mobile substation consists of two modular units placed on platforms of two car trailers. Gas-insulated 110 kV switchgear and control gear and a power transformer of 25 MVA are mounted on one of the modules, on the other — a portacabin with 6 (10) kV switchgear and auxiliary control and protection systems. The modules are connected by 10 kV flexible cables of XLPE insulation. This design allows the possibility of transporting the mobile substation in any geographic point and its use as a powerful independent source for a period of process failures, constructing a stationary substation, and for unloading the grid during peak loads.
The mobile substation in Krasninsky district will operate during the construction of a new 110 kV substation, which IDGC of Centre is planning to construct in 2014. It will provide electricity to a full production cycle of the car plant with its capacity of 20 MW and a housing estate for 3.5 thousand workers.
In the course of this project execution specialists of the company not only mastered some unique experience in the implementation of modern equipment, which will subsequently be rolled out to other branches, but also contributed to the further development of the Lipetsk region.