24 July 2013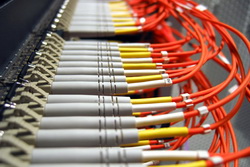 IT Director — Head of IT Department of IDGC of Centre Andrey Dudin took part in the annual meeting on the prospects of development and operation of a unified data network in the electricity industry, the development of automated process control and information systems infrastructure. Seminar-workshop was held with the participation of heads of IT-blocks of JSC «FGC UES», a subsidiary of JSC «Russian Grids».
At the meeting the results of IDGC of Centre's activity were presented to create a data transmission system based on fiber-optic communication lines (FOCL) and the use of the grid infrastructure for the further development of the FOCL.
Fiber optic network has been developed since the early days of its incorporation. At the moment, IDGC of Centre's total network length is about 4,000 kilometres.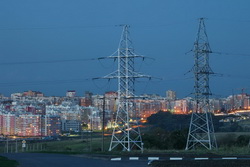 Creating your own single universal communication network based on FOCL enables the company to implement reliable high-speed data transmission necessary for reliable operation and development of remote control systems, operation control and technological communications, Automated information and measuring system of commercial energy metering, and develop video surveillance at energy facilities, information and reference systems and services in the company. This, in turn, it improves the quality of the operational management of power facilities and allows power engineers to instantly receive information on technological violations in the grid.
The new fiber-optic lines are being built in close collaboration with leading telecom operators and other companies engaged in the construction of fiber optic links. About 33%, that is one-third of new fiber-optic lines have been constructed on the principle of co-investment, which proved beneficial for project participants and will significantly reduce their costs. As a result IDGC of Centre has provided its 150 power facilities with advanced reliable data channels, and the partners were able to provide quality services to the population. In the future, IDGC of Centre is planning to actively develop fiber optic lines, and in 2014 with the co-investment and the provision of power grid infrastructure to increase the length of lines by 300 km.
«High-speed data networks are the basis for the grid infrastructure of IDGC of Centre,» underlines Andrey Dudin. «Therefore, the construction of new fiber-optic lines is an investment in the future and the solution of a social problem, which will allow to organize the necessary conditions for improving the reliability of the power grid complex of IDGC of Centre.»