18 July 2013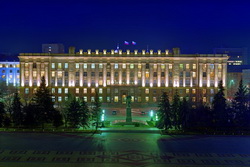 July 17th a working meeting of General Director of IDGC of Centre Oleg Isaev and Belgorod Region Governor Evgeny Savchenko was held.
The parties discussed the long-term investment program for the construction and reconstruction of power facilities in the region. Until 2018 IDGC of Centre will spend more than 30 billion rubles on the development of the grid in the Belgorod region.
Oleg Isaev thanked the region's head for the constructive dialogue and support of IDGC of Centre's initiatives in the Belgorod region. In turn, Evgeny Savchenko expressed satisfaction with the work of IDGC of Centre in the region, and showed confidence in the effective interaction between the company and the administration of the region.