16 July 2013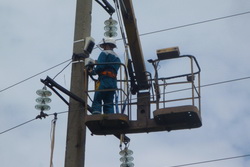 As part of the project to implement comprehensive automation of electric grid facilities, which is included in the strategy of IDGC of Centre on the «intellectualization» of the grid, IDGC of Centre is testing the work of fault locators in networks with insulated neutral, installed in the Belgorod region.
The new equipment is designed to monitor the condition of 6-35 kV overhead power lines and locate faults. Timely identification of the nature and location of fault on the line allows operating personnel to quickly respond to the situation and immediately begin restoration efforts.
Intelligent locators are installed directly on power lines and in case of an emergency situation as a result of a short circuit send a signal to the Grid Control Centre via GPRS channel. On the operator's monitor the exact geographical location of the damaged section of the network is automatically determined, which is then quickly isolated and electricity supply is restored for the consumers, who have not been affected by the disturbance.
In the Belgorod region the new equipment as a pilot was installed at the 35 kV overhead line «Alexeevka — Krasnogvardeiskoye» with the tap at the 35 kV Substation «Ilovka».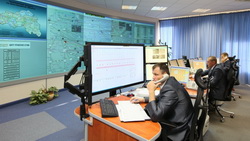 The results of tests, in which earth fault was artificially created, showed high efficiency of the new equipment used: specialists of the company reported minimal time to record the grid parameters changes by the system and the location of the damaged section. The use of indicators on the power lines, which are in difficult geographical conditions, as well as in places of crossing ponds and rivers, railroads, utilities and structures, allowed operators of the Grid Control Centre also to determine the optimal route of the emergency repair crew to the site of fault and thereby reduce not only travel time, but also the transportation costs.
Specialists of IDGC of Centre will continue the pilot test, after which a decision will be made about their installation in other regions of the service area of IDGC of Centre. The new equipment will solve the problem of increasing energy supply reliability, reducing the response time to emergency situations.
«Modern intelligent electric networks, which are currently being created by IDGC of Centre are a whole set of interrelated elements. For their construction IDGC of Centre uses high-tech solutions, as well as implements the most modern equipment to efficiently manage grid assets, to monitor and control the transmission of electricity at all stages, to improve the grid performance, to prevent interruptions in the power supply, and to quickly restore electricity supply,» underlines Deputy General Director for Technical Issues, Chief Engineer of IDGC of Centre Sergey Shumakher.