8 July 2013
Specialists of IDGC of Centre took part in the innovation forum of young power engineers «Fast and Furious-2013», held from June 30 to July 6 in the Kaluga region. The forum is held for the purpose of full unveiling of the intellectual potential of young workers, the development of corporate culture and is aimed at implementation of the youth policy of the companies — participants of the Forum.
Within the forum educational lectures, master classes and workshops were held, as well as meetings with VIP-guests and experts — practitioners of the energy industry. One of the guests of the forum was Anton Inyutsin — Deputy Minister of Energy of the Russian Federation.
Representatives of IDGC of Centre took part in a special project for utility and industrial companies «Energopolis». The purpose of events, held as part of this special project, was to raise the intellectual potential of young workers of the energy industry, as well as to increase the extent of their participation in the innovative development of the economy. Participants of the «Energopolis» were representatives of «RusHydro», «Moscow United Electric Grid», «IDGC of Siberia», «Lenenergo», and «Rosatom».
The participants of the project «Energopolis» developed and presented to the expert committee various scenarios of the energy sector development taking into account potential options for the economic development of Russia. The main topics of the developed scenarios were the development of economy and energy, safety of energy, «smart» innovations and sustainable development of the industry.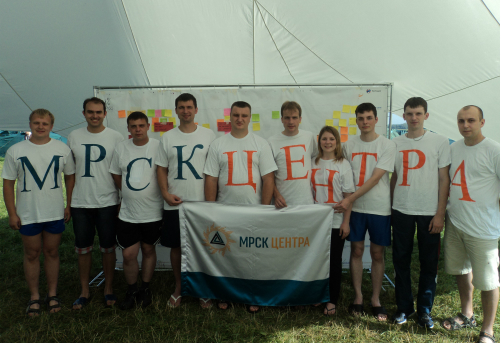 Specialists of IDGC of Centre made a presentation on «Energy Efficiency. Modernization of individual elements of fuel and energy industry in energy development», which included the project" Innovative set of devices of renewable energy sources«. Its objectives are to create an alternative source of electricity for the private sector and small enterprises with decentralized power supply, and increase technical and economic efficiency with low wind activity. Also power engineers of IDGC of Centre told about a project aimed at improving the system of training and development of staff competencies in the conditions of modernization of the electric grid complex. «This system allows to determine the competence of staff, develop them and increase staff efficiency and, as a consequence — the electric grid complex. Experts of the Forum "Fast and Furious-2013" considered the project of IDGC of Centre promising,» stressed the head of the team of IDGC of Centre, Chief electric operation modes Service of Smolenskenergo Alexey Magon.