18 June 2013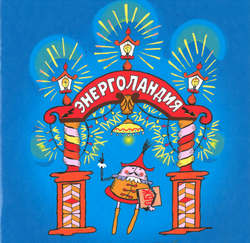 At the initiative of IDGC of Centre a children's book of poems «Energoland» about the rules of safe handling of electricity was developed and released.
The author of «Energoland» was a children's writer, a member of the Belgorod regional branch of the Union of Writers of Russia Vyacheslav Kolesnik. The author's creative baggage has more than a dozen of collections of poetry, tales and stories for children. In 2010, for the book «The youth of General Vatutin» he was awarded the title of Laureate of the All-Russian literary prize «Prokhorovka field». The writer supported the idea of IDGC of Centre of creating a children's book, which is in an accessible form of a poem to tell about the electrical code of conduct. Vyacheslav Kolesnik also took part as the book illustrator.
«This book, despite its apparent simplicity, was not easy to create,» said the writer. «We worked on it for about six months. A few verses had to redone because I saw some of the situations were not quite the way as power engineers could see them. We met several times and had consultations. Despite all the difficulties, the book was published. And this is the main thing!»
The first edition of «Energoland» has 15,000 copies. The book will be donated to children's municipal and school libraries of all 11 regions of the service area of IDGC of Centre. During the summer holidays the book will be distributed at events for electric safety in out-of-town recreational camps, children's health resorts, educational centres, etc. Only for the first five months power engineers of IDGC of Centre had about 700 classes aimed at preventing children's electric injuries.
«Conducting lessons on child injury prevention, the development of visual aids, including the release of the new children's book of poems is not a one-off activity, but part of a large-scale system of preventive work being done by specialists of IDGC of Centre,» stressed the head of production safety of IDGC of Centre Elena Kalinina. «For several years already the company has been implementing its complex target Program to reduce risk of injury to third parties at power facilities of IDGC of Centre, which aims to preserve the life and health of children and adults. For its effective implementation and development, we are constantly looking for new forms and methods to make people aware of the work on children's electric injury prevention.»