23 May 2013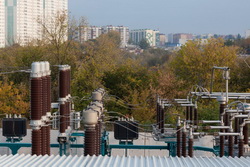 In 2012, IDGC of Centre collected 9.81 billion rubles from debtors in the implementation of measures to reduce accounts receivable. Out of them 1.988 billion rubles were recovered in the court.
In 2012, the legal department of IDGC of Centre filed 2,006 claims totalling more than 10.51 billion rubles. Most of the applications were directed for debt collection for electricity transmission services — from retail companies, utilities, and municipal utilities. For example, last year, through the courts they managed to collect the largest debt in the history of IDGC of Centre — from JSC «Tverenergosbyt» in the amount of nearly 400 million rubles, which had been accumulated since 2009.
Overall, in 2012 the volume of overdue receivables, compared with 2011, increased three times (from 2.99 to 9.81 billion rubles).
One of the methods to reduce accounts receivable is claim-related activities, which in IDGC of Centre is carried out in accordance with the Standard «Claims work» approved by the company's order.
In the framework of implementation of the given standard IDGC of Centre has developed a monthly plan designed to recover the debt, providing active joint work of experts of the Legal Groundwork Department, Security Department, Human Resources Department, regional authorities, law enforcement agencies of the regions where the problem of non-payment is the most acute.
IDGC of Centre in the current year continues to actively work with claims against debtors to reduce the accounts receivable, which have a negative impact on the financial condition of the company, which adversely affects the preservation of liquidity, and reduces investment attractiveness. Only in the first quarter of 2013, the company has sent 400 claims for a total of 4.57 billion rubles of recovery. During the first three months they have managed to collect more than 673 million rubles.