21 May 2013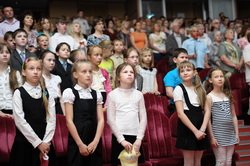 IDGC of Centre has completed the action dedicated to the celebration of the 68th anniversary of the Victory in the Great Patriotic War and initiated as a tribute to the heroism of the Russian people.
Within the campaign in all 11 regions of IDGC of Centre's service area the theatre studio of IDGC of Centre — Kurskenergo division presented its literary and musical production «Cranes».
The scenario of «Cranes» formed the original stories, recreated by real mails. The play tells about the war and the people whose lives are closely intertwined with the events of those years. The story begins June 22, 1941, when the whole country goes proms. Yet yesterday's schoolchildren are confident about the future, but the audience already understands that the young people have another fate. The play is filled with a sense of respect for the act of bravery of these young men and women, their heroism and fortitude is shown. Throughout the play are songs of the war years. Decorations have authentic military photos from the family archives of Kurskenergo's staff.
The main audience of «Cranes» was veterans. But the performance caused a great deal of interest in young people — schoolchildren sponsored institutions, students, young employees of the branches IDGC of Centre. In total, more than five thousand people saw the play. In Belgorod schoolchildren, who attended the performance, made white paper cranes as a symbol of the continuity of generations passed them to veterans. In Bryansk the event continued with creative performances of students of the Palace of Children and Youth Creativity named after Y. A. Gagarin and young employees of Bryanskenergo. In Lipetsk, the invited guests were students of a cadet class of boarding school # 2, students of the Lipetsk State Technical University, in Orel — students of the sponsored Znamenskaya boarding school and students of the chair «Power Supply» from the Orel State Agrarian University, and in Tver — pupils of the Mednovskaya boarding school.
«With the theatrical performance "Cranes" the creative team of Kurskenergo toured 11 cities in Central Russia,» says Irina Belik, head of the theater studio, a leading specialist of the HR department of IDGC of Centre — Kurskenergo division. «Various cities, traditions, audience of all ages and professions, but all of them were united in one thing: empathy to the heroes, a sense of patriotism and protest against all wars.»