25 April 2013
Deputy General Director — Chief Engineer of IDGC of Centre Sergey Shumakher took part in the All-Russian conference «Results of the operation of electric power industry entities through the autumn-winter 2012/13 and the development of electric energy and power markets», held at the Ministry of Energy of the Russian Federation today, April 25.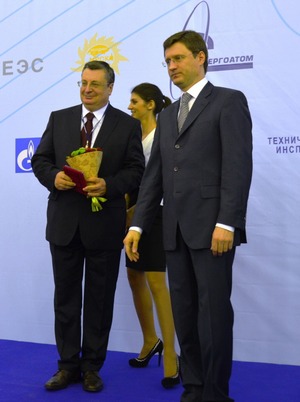 During the event, participants took summed up the autumn-winter operation period. The representatives of the energy industry stressed that the Russian power grid complex successfully operated the autumn-winter peak loads.
Opening the meeting, the Russian Energy Minister Alexander Novak thanked everyone for their good work in the autumn-winter period and summed up in total the hard season. «Despite the harsh climatic conditions, our power system was operating steadily that period. Equipment and grids worked reliably. This was made possible thanks to the coordinated teamwork of managers and teams of energy companies,» stressed Alexander Novak.
In IDGC of Centre in the autumn-winter period 2012/13, despite the difficult weather conditions, no major technological failures in the power grid facilities of the company were recorded. Thanks to the implementation of a package of measures to prepare the electric grid complex for the winter, the number of failures of power facilities compared to the previous year reduced by 50%.
During the meeting, the energy industry employees were given state awards, including Sergey Shumakher — «Honoured Power Engineer of the Russian Federation». Sergey was awarded the honorary title according to Presidential Decree of 02.02.2013 # 56 for his merits in the field of energy and many years of diligent work.