30 January 2013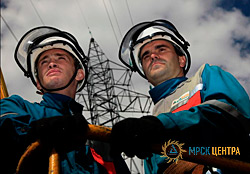 IDGC of Centre has signed the collective agreement for 2013/14. The document resulted in the work of the commission for the regulation of social and labour relations, composed on a parity basis of representatives of employees represented by chairpersons of trade unions of the company and its branches, as well as representatives of the employer on behalf of the representatives of departments of the executive office by activity and HR heads of a number of the branches.
The adopted collective agreement in the Company reflects the interests of the social partnership parties — employees' and the employer' representatives — and regulates social and labour relations at the corporate level. The conclusion of the collective agreement in IDGC of Centre promotes efficiency and productivity, compliance with safety and health requirements, and ensures social stability.
On its basis employees of IDGC of Centre are provided with a wide range of compensations and benefits. The most popular benefits include: a lump sum payment for the holiday, compensation costs for the rest of children of employees, voluntary medical insurance and private pension provision.
Many items of the collective agreement are aimed primarily at improving the working conditions of staff. According to these items employees of the company will be provided with new, more sophisticated means of personal protection. In total about 500 million rubles will be spent on labour protection and safety measures in 2013.
The conditions of work and rest of workers of Distribution Zones areas are being improving in all the branches. Repair in Distribution Zones will continue, and reconstruction of the administrative and personal service rooms will be performed. IDGC of Centre pays much attention to increasing the level of skills of staff. In 2013 more than 78 million rubles will be spent on staff training.
Great attention in the company is given to the support and development of young professionals. For it specialists of IDGC of Centre do vocational orientation, target training at universities, and organize practice of students in the company's branch offices. Material support of veterans remains an important area.
Implementation of the collective agreement of IDGC of Centre allows to improve corporate dedication of the staff, which eventually is beneficial to the company and enhances its competitiveness.