22 January 2013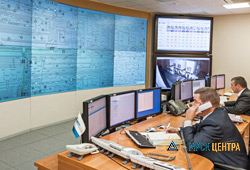 A working meeting of the heads and specialists of IT-direction of IDGC of Centre and the Ministry of Energy took place, at which the company presented its automated system for enterprise resource management. Experts of IDGC of Centre also demonstrated to representatives of the Ministry of Energy their experience in the field of creating enterprise data warehouse and business intelligence systems. The participants of the event discussed the main approaches used in the company for information exchange. As the second topic the representatives of the Ministry of Energy were demonstrated the automated system of day-to-day operation of the enterprise with which the Company organized its workflow, organization and implementation of operational tasks within business processes.
The concept of the automated enterprise resource management system based on SAP ERP was developed in IDGC of Centre in 2006. It solved many issues to unify the management system, provided the business transparency for shareholders and parent organizations, and enhanced the operational management of the company — down to the level of Distribution Zones inclusive. Thanks to the ERP system it became possible more effectively to solve problems in the area of ​​financial accounting, and materials management.

Currently, this system is used by more than 12,000 employees of IDGC of Centre. The company's specialists maintain financial and management accounting in the system, form financial statements, supervise the process of implementation of services for grid connection and electricity delivery, manage maintenance and repair of equipment.
The representatives of the Ministry of Energy highly appreciated the work done by IDGC of Centre in the field of reporting automation and day-to-day operation.